By: Joseph C. Dean, P.E. for the Director, Corrosion Policy & Oversight (DASD) [Materiel Readiness]
Updated: 11-20-2019
INTRODUCTION
Within This Page
Pavements are the essential connector within DoD Installations, airfields, waterfronts, and to and from adjacent communities. Pavements include both concrete and asphalt surfaces that create the following:
Airfield runways, parking ramps and hangars
Roads
Bridges
Waterfront
Piers
Dry-docks
Sidewalks
Walking paths
Walkways (elevated)
Corrosion impacts these surfaces in the following manner:
Asphalt binder breakdown
Loss of flexibility
Cracking & pothole failure
Base course & structural failure
Concrete reinforcing steel corrosion (spalling)
Corrosion stressors include:
Thermal & Photo Oxidation
Ultra-violet Radiation degradation
Freeze Thaw (Frost Heave)
Corrosion of reinforcing steel (Concrete Pavements)
Chemical impacts (salt & other chemicals)
Heat impacts of jet blast
Interaction of aircraft with the pavement (e.g. friction loss, surface breakdown, etc.)
Operational and Mission Impacts can be serious and include the following:
For operational pavements such as airfields & critical road infrastructure, loss of mission capability affecting the National Defense.
For roads & related pavements, inability to support designed functions creating delays, congestion, disruption.
For bridges, access denial and life safety.
For dry docks and waterfront pavements, loss of mission capability, life safety.
DESCRIPTION
Pavements represent the lifeline between essential requirements. Corrosion impacts are extensive and pervasive. The cost to construct these facilities is significant, but sustaining them is much more of a challenge. Keeping facilities infrastructure operational is a full time task requiring ever increasing resources. It is often easier to avoid or defer pavement repairs while they are seemingly functional. Failure can be both gradual and catastrophic. In both instances the cost to defer essential repairs is costly and mission impacting.
These pictures provide a small sample of concrete and asphalt failure issues. The cost to repair these pavement facilities is not trivial.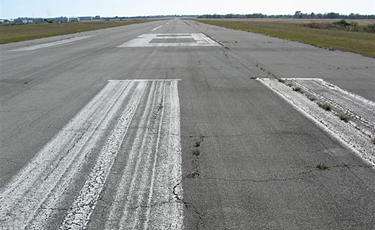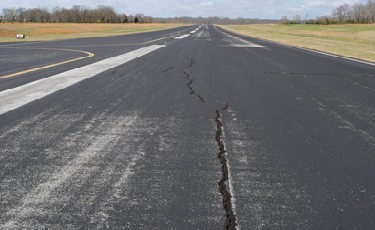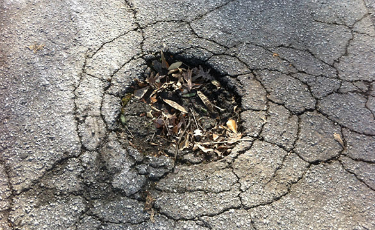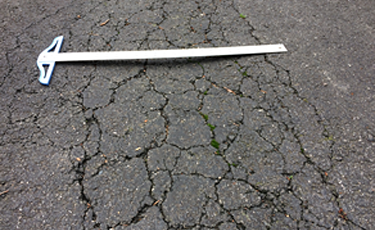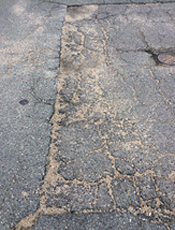 Pavement Challenges
Understanding the pavement technology, design, construction and sustainment and the associated risks and stresses is an absolute must for engineers, architects and sustainment engineers. Salt water is an excellent electrolyte contributing to an aggressive corrosive environment. Hydrostatic forces, wind, salt spray, ultraviolet radiation, temperature variations, frost, heave, surface erosion, asphalt binder failure all contribute to corrosion and erosion of concrete and asphalt pavements. Utilizing sustainment management system tools such as Paver™  will assist the installation in tracking pavement facilities and identifying maintenance requirements such that they can be funded and sustained.
Pavement Management Techniques
Methods of Corrosion Control for Pavements include:
Utilizing an SMS tool such as Paver
Good design practice
Good construction practice
Good Quality Control and Quality Assurance focused on CPC in pavements
Corrosion awareness and facility monitoring
Material selection
Selection of appropriate surface treatments
Proactive sustainment management
Through understanding the severity and stresses associated with pavement design and construction and pavement sustainment, new and existing pavements will have a greater possibility of meeting mission requirements over the life cycle. It is essential that the right materials are selected, installed and maintained. Pavements have to hold up to repetitive stresses and forces that can be marginalized by corrosion stressors. The engineer, architect and sustainment professional should seek assistance of SMEs in this area to ensure that their projects will remain durable and sustainable over the desired life cycle. The extensive list of Resources listed below is an indication of the enormity of issues associated with concrete and asphalt pavements.
Consulting a Pavements Subject Matter Expert (SME)
Pavement Discipline Area SMEs provide invaluable consultation skills developed from years of experience assessing corrosion prevention requirements and many environments. The SMEs can translate local conditions into the interdisciplinary solutions that provide immediate and long-term benefits to the installation and its SRM bottom line costs. Typical consulting services provided by the SMEs include:
Multi-discipline coordination and understanding
Airfield pavement friction analysis
Bridge inspections
Materials analysis and selection
Problem assessment
Failure analysis
Environmental Severity impacts
System and material selection
Review and assessment of contractor deliverables
Quality assurance
System design
SRM analysis and recommendations (system inspection and testing assistance)
Hazards analysis
Assessment of the sustainability and durability of new technologies
Process analysis
Anti-terrorism threat analysis and protection technologies
Relevant Codes and Standards
Department of Defense
Unified Facilities Criteria (UFC)
Unified Facilities Guide Specifications (UFGS)
AFCEC - Air Force
Navy - NAVFAC
Federal Aviation Administration
Federal Highway Administration
American Society for Testing and Materials (ASTM)
ASTM C131 Standard Test Method for Resistance to Degradation of Small-Size Coarse Aggregate by Abrasion and Impact in the Los Angeles Machine
ASTM C88 Standard Test Method for Soundness of Aggregates by Use of Sodium Sulfate or Magnesium Sulfate
ASTM C150/C150M Standard Specification for Portland Cement
ASTM C1580 Standard Test Method for Water-Soluble Sulfate in Soil
ASTM C618 Standard Specification for Coal Fly Ash and Raw or Calcined Natural Pozzolan for Use in Concrete
ASTM C136 Standard Test Method for Sieve Analysis of Fine and Coarse Aggregates
ASTM C117 Standard Test Method for Materials Finer than 75-?m (No. 200) Sieve in Mineral Aggregates by Washing
ASTM C127 Standard Test Method for Density, Relative Density (Specific Gravity), and Absorption of Coarse Aggregate
ASTM C260/C260M Standard Specification for Air-Entraining Admixtures for Concrete
ASTM C494 Standard Specification for Chemical Admixtures for Concrete
ASTM C1017/C1017M Standard Specification for Chemical Admixtures for Use in Producing Flowing Concrete
ASTM C173/C173M Standard Test Method for Air Content of Freshly Mixed Concrete by the Volumetric Method
ASTM C1116/C1116M Standard Specification for Fiber-Reinforced Concrete
ASTM D5893/D5893M Standard Specification for Cold Applied, Single Component, Chemically Curing Silicone Joint Sealant for Portland Cement Concrete Pavements
ASTM A242, ASTM A588, ASTM A606 (Thin sheets)
ASTM A690 (H-Piles and Sheet Piling)
ASTM A709 (Bridges)
National Association of Corrosion Engineers (NACE) and Society for Protective Coatings (SSPC)
ADDITIONAL RESOURCES
Publications
Organizations
Tools
Assistance
Obtaining SME Assistance for DoD Installations
Federal Facility Criteria: