Overview
Within This Page
The Outside/Structured Parking space type refers to an above-grade, ramp access, open-air structure specifically designed to accommodate vehicle parking. As defined for the WBDG, the Level of Service (LOS) (refer to Architectural Graphic Standards, 10th Edition, page 106) of the Inside/Basement Parking is LOS B, indicating use by some unfamiliar users, moderate daily turnover, and medium percentage of small cars and light trucks; and requiring one-way aisles of 11'-0" straight-ways and 13'-6" turns. See also WBDG Parking Facilities.
Space Attributes
First and foremost, parking structures—either basement, structured, or surface—must provide for the safe and efficient passage of automobiles as well as visitors to and from their vehicles. Therefore, attention should be given to providing the maximum driver visibility possible at all turning points along the roadway as well as designing stairways and lobbies to offer maximum visibility from the outside for security of the visitors. As a sole use structure with no interior fit-out, typical features of outside structured parking include the list of applicable design objectives elements as outlined below. For a complete list and definitions of the design objectives within the context of whole building design, click on the titles below.
Minimal Visual Impact: The structured parking structure should not dominate the building site. Through a combination of planning, architectural, and landscaping elements, the visual impact on the surrounding streets and developments can be minimized. For example, structured parking is generally located to the rear or side of the building and away from the street or street intersections, while providing direct pedestrian access to the buildings.
Site Improvements: Typical site improvements directly related to the structured parking structure include ground cover, planting, irrigation systems—for example, sprinkler misters at integral planters on building spandrel panels, storm water drainage systems, vehicle entrance roadways, sidewalks, lighting, signage, fences, screens, buffer zones, roadway extensions to public streets, and connections to public utilities.
Structural Requirements: The structure includes foundation, beams, columns, and slabs. The structural bay spacing and floor-to-floor heights are designed to accommodate vehicle circulation and parking. The standard substructure foundation includes reinforced concrete spread footing, water-resistant membrane with rigid insulation and with sealant sloped at footing, and gravel drainage course with filter mat over 4" drainage tiles. The slab on grade is typically 6", 4000 PSI, poured on top of a gravel base on compacted fill with a moisture barrier in between the gravel base and the slab. The slab is reinforced with welded wire fabric; and the joints and wall junctures are sealed with sealant. The structural frame, designed for a live load of 50 LB/SF, is typically precast, reinforced concrete structural columns and beams, and double "T" deck with concrete topping, allowing for a clear height under the "T" of 8'-6".
Signage and Wayfinding: Signage should indicate all major internal pedestrian access points as well as external major roads and buildings. In structured parking, pavement markings are reflective paint and traffic control signage is usually reflective metal signs with minimum 5" high letters. The Manual on Uniform Traffic Control Devices for Streets and Highways (ANSI D 6.1e) provides guidance on pavement marking and signage.
Parking Management: Curb-mounted parking booths with transaction windows and deal trays are installed at vehicular entrances/exits to manage entering and exiting vehicles. A cooling system, like a packaged terminal air conditioner (PTAC), is usually incorporated to supply the booth with outside air at a positive pressure relative to surrounding parking areas.
Security Protection: Beyond parking management, several security measures are incorporated into typical structured parking structures to ensure the security of visitors. These generally include: uniform lighting coverage, preferably with energy-efficient light fixtures, closed circuit television (CCTV) cameras, card reader access control for vehicle entrance doors, concrete filled protective bollards to protect vehicle entry keypads and ticketing systems, and hydraulic lift wedge type barriers for egress control. Also critical are the exterior security systems, including CCTV cameras and building security flood lighting, related to the protection of elevator lobby space, stairs, and other support spaces accessible from the parking area. Depending on the level of protection desired, consider ballistic glazing for the parking booths. See also WBDG Secure / Safe—Security for Building Occupants and Assets.
Fire and Life Safety: The structured parking structure is typically sprinklered for 1 hr. structure, 1 hr. exterior bearing walls, 1 hr. interior bearing walls, 1 hr. exterior non-bearing walls, 1 hr. floor construction, and 1 hr. roof construction. Proper notification systems, lighting, and signage are required to facilitate safe and speedy evacuations during an emergency. This is usually accomplished with proper fire alarm wiring, pull stations, strobes, annunciators, and exit signage. See also WBDG Secure / Safe—Fire Protection.
Ice Prevention: Radiant heaters or slab heating coils are incorporated into the structured parking structure to prevent ice build-up, which could cause dangerous driving/walking conditions within the parking structure.
Ventilation: Forced ventilation systems are installed in enclosed spaces.
Drainage and Storm Water Management: Water runoff from vehicles is typically dealt with in structured parking structures by installing trench drains with cast iron covers at all vehicle entrance/exit points, sand and oil traps at all storm drain discharge points, and floor area drains at every low point. See also WBDG Low Impact Development Technologies.
Example Plans
The following diagrams are representative of typical tenant plans.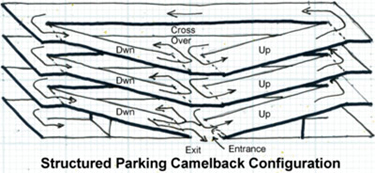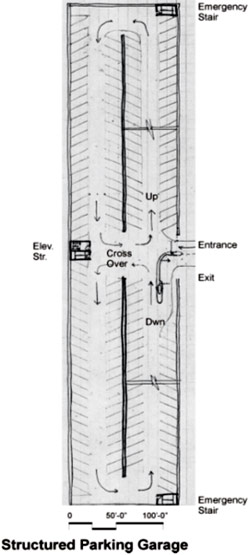 Example Construction Criteria
For GSA, the unit costs for outside, structured parking are based on the construction quality and design features in the following table . This information is based on GSA's benchmark interpretation and could be different for other owners.
Relevant Codes and Standards
The following agencies and organizations have developed codes and standards affecting the design of structured parking. Note that the closed and standards are minimum requirements. Architects, engineers, and consultants should consider exceeding the applicable requirements whenever possible:
Additional Resources
WBDG
Building Types
Educational Facilities, Federal Courthouse, Health Care Facilities, Libraries, Office Building, Parking Facilities, Research Facilities
Space Types
Basement Parking, Surface Parking
Design Objectives
Functional / Operational—Account for Functional Needs, Secure / Safe—Fire Protection, Secure / Safe—Security for Building Occupants and Assets, Sustainable—Enhance Indoor Environmental Quality (IEQ)
Publications