Overview
Within This Page
The Place of Worship described here is a location reserved for private devotion, prayer, or meditation, small services, and counseling services. It is usually found within a larger institution such as a hospital, airport, or prison and is not a stand-alone building. The space type includes the major and minor assembly spaces used for interfaith worship, storage space for liturgical furnishings, and any other support spaces including counseling rooms or administrative offices.
Space Attributes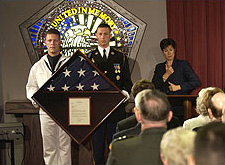 A nonsectarian, nondenominational ambience is required in places of worship that serve visitors, staff, and other users of public institutions. Liturgical furnishings and representative art can be supplied, but must be moveable to accommodate all users, cultures, and religions. At the same time, the architectural qualities which imply a religious or spiritual intention, including light, color, and higher than conventional vertical spaces, should be also provided and celebrated. Because the place of worship is often a contemplative space, it should be gracious, hospitable, and dignified. Typical features of Place of Worship space types include the list of applicable design objectives elements as outlined below. For a complete list and definitions of the design objectives within the context of whole building design, click on the titles below.
Accessible Seating: Approximately 15 percent of seating supplied in places of worship within hospitals should be removable and reserved for wheelchairs and gurneys.
Character: Utilize appropriate finishes, furniture, signage, and art to reflect the public nature of the space. See also WBDG Style.
Verticality: Highlight or soften the verticality of the space by delineating horizontal bands with windows, lighting, and wall coverings. A spatial compression/release experience can enhance the aesthetic experience.
Lighting: According to the Department of Defense's UFC 4-740-02N Navy and Marine Corps Fitness Centers, good places of worship may be dimly lit like medieval buildings or brightly lit like Christopher Wren's churches. The light may be filtered through colored glass or come through clear glass. Colored glass may supply an exotic character, but clear glass brings a consciousness of the surrounding world. The important thing to remember is that no factor in the design of a place of worship is more important than the nature of its light. Designers should be not be limited by stereotypes.
Transition: Provide an entry space in order to allow visitors to transition from a busy institutional environment to a calmer, warmer, and more welcoming one.
Glazing: Include glazing system materials or detailing that emits natural light, but prevents glare and light reflection. Consider using clerestory windows to let natural light into the space when desirable views are not available or when available views are considered to distracting.
Location and Adjacencies: Preferred locations for places of worship are those readily accessible to primary users (i.e. patients if the place of worship is located in a hospital) and at high traffic locations. Sound control is to be considered, as well as visual privacy.
Furnishings and Equipment: Liturgical furnishings should be portable and minimal. A platform is not usually needed within a small place of worship. An altar/table as small as 36 inches should be sufficient in most cases. Focal symbols (i.e. a crucifix or a menorah) may be limited and moveable in order to accommodate users and their differing beliefs. A piano or small electric organ may be appropriate. Provisions should be made for devotional literature of various types. A sign board for identifying the place of worship and for announcement of service times is recommended.
Seating: General seating should be in movable chairs. In planning the seating, a module of 20 inches, shoulder to shoulder, and 36 inches, back to back, is proper. Row lengths and aisle widths must follow requirements of NFPA 101. Keep in mind that cushioned seats may be preferred as they are sound absorptive when no one is sitting in them.
Administrator's Offices: Administrator's Offices should be located in an easy-to-find location. In smaller places of worship, this implies a location near the main entrance. These offices are used for study, administrative work, counseling individuals and couples and sometimes families, and for some staff meetings. The typical "business-like" quality of a commercial office is to be avoided in favor of a more humane or domestic ambience. When these rooms must be sound isolated for privacy partitions must be full height, sound traps may be required in ductwork, and sound seals should be provided at doors. See also WBDG Office space type.
Storage: A storage space should be provided for liturgical objects that are faith-specific. Such a space is key if worship spaces are to be adaptable. Items that may be stored include extra chairs, liturgical furnishings, large banners or other symbolic or decorative devices, statuary, prayer books for special occasions, seasonal decorations, prayer rugs, and religious garments.
Plan for Flexibility: The Place of Worship is generally a single volume of basically simple geometry. Design features such as dominating axialities, implied focus, hierarchical progressions of space or imperious bisymmetry should be avoided because these features limit flexibility of arrangements and use. To promote flexibility, seating may be interlocking and stackable, but also comfortable and attractive.
Acoustics: If the space will be used for formal meetings or religious services, study its acoustic properties and include sound absorptive materials as the program requires. An electronic speaker system should not be necessary in most small places of worship if proper consideration is given to room shapes and surfaces.
Audiovisual Equipment in Hospital Facilities: In some facilities, an electronic sound and video system is necessary so that the sound may be enhanced for the hearing impaired and so that the events of services can be transmitted to bedside television sets. See also WBDG Productive—Integrate Technological Tools.
Special Lighting: Establish lighting zones at the beginning of the design process. Differentiate between the lighting needs for private reflection spaces, counseling spaces, storage spaces and support offices. Consider energy efficient lighting.
Comfort: Specify HVAC equipment that will ensure a comfortable and reliable temperature. For more information see WBDG High Performance HVAC. Air and motor sounds in ventilating systems should be reduced aggressively by duct lining, bends, sound traps and velocity control. See also WBDG Productive—Provide Comfortable Environments.
Control: Because full staff is not present after working hours, elements of the space that are not open for use should be subject to locking off, including storage space and offices. Keep in mind that places of worship in many facilities are open 24 hours a day, seven days a week.
Daylighting: For places of worship spaces at the exterior of a building, utilize daylighting to reduce electric lighting needs. If sufficient daylight is provided so that artificial lighting is not required during daylight hours, an advantage is gained, but large areas of glass, even when triple glazed, are expensive in terms of the energy used. Skylights can distribute light well and do no leak if carefully detailed.
Example Program
The following is a representative building program for the Place of Worship space type.
PLACE OF WORSHIP
Description
Tenant Occupiable Areas
Qty.
SF Each
Space Req'd.
Sum Actual SF
Place of Worship Facilities
 
 
 
2,280 / 25,550
    Principal Chapel
1
1,200
1,200
 
    Storage Related
1
140
140
 
    Administrator's Office
1
250
250
 
    Staff Office Space
1 / 2
270 / 540
270 / 540
 
    Corridors, toilets, service, and
    other unassignable areas
—
420
420
 
 
 
 
 
 
    Tenant Suite
 
 
2,280 / 25,550
2,280 / 25,550
 
 
 
 
 
Tenant Usable Areas
 
 
 
 
Example Plans
The following diagram is representative of typical tenant plans for assembly spaces within the place of worship.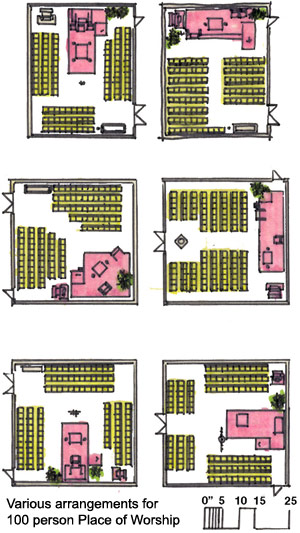 Relevant Codes and Standards
The following agencies and organizations have developed codes and standards affecting the design of places of worship. Note that the codes and standards are minimum requirements. Architects, engineers, and consultants should consider exceeding the applicable requirements whenever possible.
Additional Resources
WBDG
Building Types
Community Services, Federal Courthouse, Health Care Facility, Land Port of Entry, Government Laboratory
Design Objectives
Accessible—Provide Equal Access and Flexibility, Aesthetics—Understanding the Language and Elements of Design, Functional / Operational—Account for Functional Needs, Productive—Promote Health and Well-Being, Productive—Provide Comfortable Environments
Others
Building Research Information Knowledgebase (BRIK)—an interactive portal offering online access to peer-reviewed research projects and case studies in all facets of building, from predesign, design, and construction through occupancy and reuse.