Overview
Within This Page
Effective and efficient use of space means creating the right environment for concentration, learning, communication, and collaboration—the building blocks of productivity for building occupants. Organizations, business practices, educational settings and learning methodologies, and the workforce have changed dramatically in the past two decades. Technological advances, demographic shifts, and continual demands for innovation have created pressures for environments to catch up with the changing nature of organizations, work and workplace. Organizational effectiveness today means using space more wisely. This does not just mean cutting costs. It means designing for flexibility to enable space to change as work groups, activities, and projects evolve.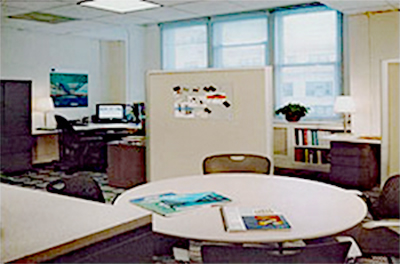 Information in these Productive pages must be considered together with other design objectives and within a total project context in order to achieve quality, high-performance buildings. Also, workplace productivity strategies support sustainable design principles, functional programming and functionality, and should be taken on balance for the longevity of all the issues considered.
It is often hard to quantify the impacts of specific components of the indoor environment on productivity, because individual and group effectiveness is tied to many different factors-including compensation levels, management practices, and environmental comfort. It is difficult, if not impossible, to isolate individual physical factors, such as the presence or absence of team rooms, daylighting, natural meeting places, or control over the environment. This problem is exacerbated in the case of employees whose "output" is knowledge or insight that cannot be easily quantified.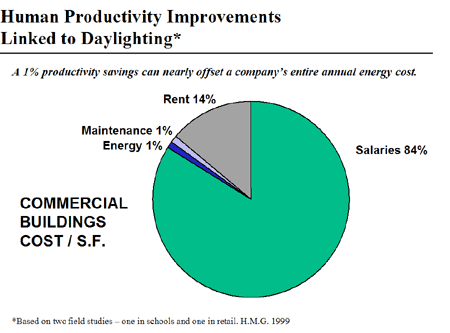 Nonetheless, an increasing number of studies are beginning to suggest that support for communication and collaboration as well as for individual cognitive activity are fundamental aspects of organizational productivity. The GSA agrees and concludes in The Integrated Workplace that "since people are the most important resource and greatest expense of any organization, the long-term cost benefits of a properly designed, user-friendly work environment should be factored into any initial cost considerations."
One way to do such "factoring" is to consider the total life-cycle costs of the building or property each year. In private sector offices, such costs are typically, in order of magnitude:
$200 per square foot per year for salaries
$20 per square foot per year for amortized bricks and mortar costs, and
$2.00 per square foot per year for energy.
In this situation, an additional $2 per square foot per year for bricks and mortar costs (e.g. for providing greater flexibility) would pay for itself if it generated a modest 1% increase in salary "productivity." Note: Design strategies that increase user satisfaction and that improve individual and group effectiveness should therefore be considered not as cost 'extras,' but as productivity investments that enhance an organization's overall success. Buildings can be more effective, exciting places to work, learn, and live by encouraging adaptability, improving comfort, supporting sense of community, and by providing connections to the natural environment, natural light, and view.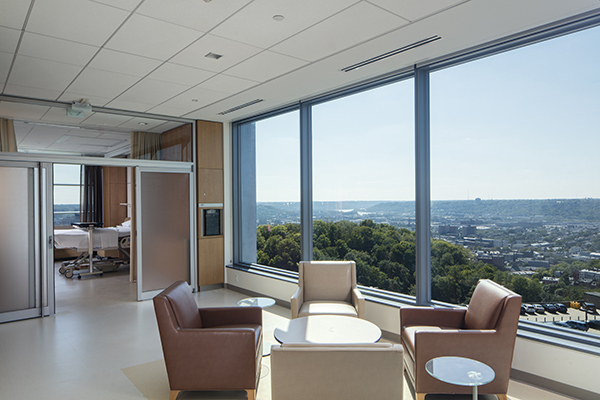 There are five fundamental principles of productive building designs:
Relevant Codes and Standards
Additional Resources
Federal Agencies
Organizations
Publications
The Agile Workplace: Supporting People and Their Work by Gartner, Massachusetts Institute of Technology and 22 Industry Sponsors, 2001.
Assessing Green Building Performance: A Post Occupancy Evaluation of 12 GSA Buildings , Kim M. Fowler, Emily M. Rauch, July 2008.
Collaborative Knowledge Work Environments  by Judith Heerwagen, Kevin Kampschroer, Kevin Powell, and Vivian Loftness. Building Research & Information, 32(6):510-528, 2004.
Daylighting and Human Performance  by Lisa Heschong. ASHRAE Journal, June 2002.
Disproving Widespread Myths about Workplace Design by Michael Brill.
DOE Building Studies by the Center for Building Performance and Diagnostics. Pittsburgh, PA: Carnegie Mellon University, 1994.
Environmental Satisfaction, Personal Control and the Positive Correlation to Increased Productivity White paper prepared by Carol Lomonaco and Dennis Miller, Johnson Controls, Inc.
Facilities Standards for the Public Buildings Service, P100 by the General Service Administration (GSA).
Further Findings from the Office of Environment Survey: Productivity. Proceedings of Indoor Air '90: Fifth International Conference on Indoor Air Quality and Climate by Gary Raw and Michael Roys. Toronto, Ontario: 1:231-36, 1990.
Global Sustainability Perspective—July 2011, Green Buildings and Office Worker Productivity by Jones Lang Lasalle.
Green Building Performance: A Post Occupancy Evaluation of 22 GSA Buildings , GSA Public Buildings Service, August 2011.
Green Buildings, Organizational Success and Occupant Productivity  by Judith Heerwagen, Building Research & Information, 28 (5/6): 353-367, 2000.
Greening the Building and the Bottom Line: Increasing Productivity Through Energy-Efficient Design White paper by Rocky Mountain Institute.
Healthy Buildings and their Impact on Productivity. Proceedings of Indoor Air '93: Sixth International Conference on Indoor Air Quality and Climate by David Wyon. Helsinki, Finland: 6:3-13, 1993.
How IEQ Affects Health, Productivity  by William J. Fisk, P.E., Member ASHRAE. ASHRAE Journal, May 2002.
IEQ and the Impact on Building Occupants by Satish Kumar, Ph.D., Member ASHRAE and William J. Fisk, P.E., Member ASHRAE. ASHRAE Journal, April 2002.
The Integrated Workplace: A Comprehensive Approach to Developing Workspace  by Office of Real Property in the Office of Government-wide Policy of the U.S. General Services Administration. May 1999.
Innovative Workplaces: Benefits and Best Practices  developed as a joint project between the General Services Administration (GSA) Office of Governmentwide Policy's Office of Real Property Management and the GSA Public Buildings Service Office of Applied Science, January 2006.
The New Office: With 20 International Case Studies by Francis Duffy. Antique Collectors Club, 1997.
"Relationships Between the Indoor Environment and Productivity: A Literature Review," ASHRAE Transactions by N. Sensharma, et al. 1998.
Rensselaer's West Bend Mutual Study: Using Advanced Office Technologies to Increase Productivity by Walter Kroner, et al. Troy, NY: Center for Architectural Research, 1992. One of the most carefully documented studies on increases in productivity as a result of improved environmental quality.
Total Workplace Performance: Rethinking the Office Environment by Stanley Aronoff and Audrey Kaplan (eds.). Ottawa, Ontario, Canada: WDL Publications, 1995.
Using Office Design to Increase Productivity by Michael Brill, et al, and the Buffalo Organization for Social and Technological Innovation (BOSTI). 1994. A major study of the relationship between productivity and user satisfaction in 6,000 office buildings throughout the United States during a five-year period.
Windows and Offices: A Study of Worker Performance and the Indoor Environment  Prepared by Heshong Mahone Group, Inc. for California Energy Commission. Fair Oaks,California: State of California, October 2003.
Workplace by Design: Mapping the High-Performance Workscape by Franklin Becker and Fritz Steele. Jossey-Bass, 1995.
Others
Tools
Training