Overview
Within This Page
The Fitness Center is a health, recreational, and social facility geared towards exercise, sports, and other physical activities. It may be a for-profit commercial facility or a community- or institutionally-supported center. A successful facility will accommodate both the serious athlete and the casual recreational user.
Activities include organized, group instructional programs such as spinning classes, yoga, and martial arts; organized and impromptu team sports; and individual fitness opportunities such as cardiovascular training, weight training, and swimming. Individual activities may be self-guided or conducted under the supervision of a trainer. A Fitness Center may also accommodate outdoor activities with features such as a running track, swimming pool and sport playing fields.
The social component is an important secondary function of the Fitness Center and is represented by elements that support the fitness goals but also encourage social interaction. These include a juice or snack bar, sport spectator seating, saunas, and hot tubs.
Building Attributes
A. Space Types and Building Organization
Potential Fitness Center spaces are numerous and varied. Small facilities may have little more than a fitness area with cardiovascular machines and weights, locker rooms, and a small support/administrative area. Large facilities may add gymnasiums, racquetball courts, indoor and/or outdoor pools, food service and retail spaces, and child care spaces.
Fitness Spaces. These are typically the heart of the facility and include the following components:

Cardiovascular equipment
Free and plate-loaded weights
Selectorized weights (such as cable-operated weight machines)
Stretching/warm-up/cool-down spaces
Indoor running track

Gymnasium. This space is usually defined by consensus organization regulations such as the National Collegiate Athletic Association and accommodates indoor sport activities such as basketball and volleyball.

Group exercise room/classroom. These rooms accommodate organized fitness class activities.

Structured activities. These include a variety of well-defined activities such as the following:

Racquetball
Climbing wall
Spinning classes

Locker rooms and associated functions. These spaces are typically separated by gender and accommodate the basic functions of changing, storing clothes, patron showers, and toilets. Additional optional spaces include the following:
Administrative and support spaces. These staff spaces accommodate the operation and administration of the facility and include the following:
Enhanced spaces. These optional spaces can enhance the patron's social and/or overall experience and may provide additional revenue sources:

Vending, juice bar, or other food service
Retail sales of athletic clothing and equipment
Spectator seating for the gymnasium or structured activities
Fitness assessment spaces
Massage or physical therapy spaces
Tanning
Gender-specific work-out spaces

Pool. Pools may be indoor or outdoor and may include multiple components such as a dedicated lap pool (without a shallow side), diving pool, family pool, and hot tub.

Outdoor spaces such as sport playing fields and outdoor running or bicycling tracks.
The potentially hazardous nature of some of the activities means that facility access must be controlled even in not-for-profit facilities. This requires a primary entrance controlled by a check-in point that also has visual access to much of the facility. Beyond this point, Fitness Centers are typically organized around the fitness spaces.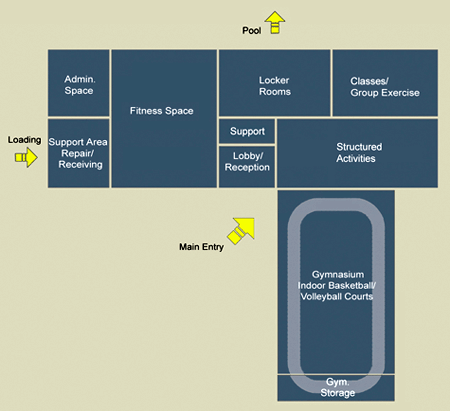 Ideally, the fitness spaces should naturally extend out of the lobby entrance, past the control desk. The control desk should have visual control over as much of the fitness spaces as possible but particularly the cardiovascular machines. If other potentially hazardous activities such as a climbing wall are provided, the control desk should have visual control over those as well.
B. Design Considerations
Key design goals and considerations for Fitness Centers include the following:
Support the Active Environment
Create an interior design environment that supports the energy and activity inherent in the facility:
High ceilings and ample circulation space encourage activity.
Interior design and color selection provide a sense of activity but should not overwhelm the eye or clash with the colorful work-out clothing typically worn by patrons.
Vary the interior volumes to avoid a "big box" feeling.
Provide as much natural light as possible while considering glare for patrons.
Use key activities as design focal points and to enhance interest. This could be the strategic location of a climbing wall visible from the lobby or glass walls at racquetball courts and classes.
Maintain a Safe and Healthy Environment
Safety is a critical element of fitness center design and includes imparting a sense of security as well as injury prevention:
Provide visual access to all potentially dangerous, unstaffed spaces.
Provide proper impact flooring for each space for fall attenuation and appropriate cushioning for bone and joint health.
Do not create hidden or dark corners and provide alarms or call buttons in key remote spaces such the sauna, massage room, and outdoor areas.
Appropriately separate gender-specific areas to ensure a sense of privacy.
Ensure good indoor air quality and natural light.
Provide a Durable and Maintainable Facility
The heavy use and gross motor activities will impact both the interior finishes and the building systems, particularly heating, ventilating and air conditioning (HVAC):
Provide durable interior finishes with impact protection, especially in group exercise rooms and free-weight areas.
Provide additional ventilation in fitness areas and high-humidity environments such as the shower rooms. Ventilation will significantly affect both the patron comfort and facility maintenance. Balance increased ventilation needs with energy usage and sustainability issues.
Protect vulnerable fixtures such as lights and sprinkler heads from impact by balls or other fitness equipment.
Include Appropriate Space for Staff
Provide space to assist staff in developing and maintaining the center's programs and business. Outside of normal day-to-day operations, staff must be able to accomplish the following:
Think and plan
Meet and communicate
Host visitors
Store equipment and records
Emerging Issues
Flexibility is critical in Fitness Center design as equipment technology is constantly changing and sports and classes move in and out of fashion. Consider a raised flooring system in the fitness spaces to accommodate equipment with data connections for fitness tracking and to facilitate changing and rearranging equipment. Provide ample storage for fitness supplies and equipment to meet changing needs.
For group exercise rooms, consider designing one large partitionable room rather than multiple smaller rooms. This will allow the room size to change as classes wax and wane in popularity. This added flexibility, however, needs to be weighed against the cost and/or acoustical impacts of using movable partitions versus fixed wall construction.
Relevant Codes and Standards
Standard federal and state building codes apply, as appropriate. Additionally, each sport typically has a governing body that will regulate playing court/field sizes and specifications.
Department of Defense
Additional Resources
Organizations