Related Resource Pages
Office
Last updated: 06-02-2009
Within This Page
Overview
The Office space type refers to a variety of spaces including: meeting spaces integrated into the office environment, reception, office support spaces such as work rooms, storage rooms, file rooms, mail rooms, copier areas, service units/coffee bar, and coat storage integrated into the office environment, and telephone and communications equipment rooms located in tenant suites containing tenant equipment.
Spaces and features that may be classified as a separate space type or covered as a special feature include:
Millwork other than service unit/coffee bar and coat storage
Meeting spaces and conference rooms that include special lighting systems, acoustical treatment, moveable partitions, millwork, or A/V systems
Secure storage, strong rooms, vaults, and hardened partitions located within the office suite
Large filing, library, or storage areas with concentrated floor loads
Enclosed spaces requiring acoustical separation higher than 40 STC, partitions to structure with acoustical insulation, and ductwork sound baffling
Specialized window treatments (blackout shades, plantation shutters, motorized fabric draperies, etc.), interior windows, glass block partitions, and glazed doors
Humidity, pathogenic, or hypoallergenic air treatment systems
Upgrade or changes to standard items such as plaster or vaulted ceilings, specialty lighting, or upgraded ceiling tiles
Private toilets, elevators, or staircases
Office space plans can be arranged in several scenarios, including: 100% closed office (fully closed), 80%-20% (open), 20%-80% (closed), and 100% open office (fully open). See also WBDG Office Building.
Space Attributes
Over 50 percent of workers in the U.S. spend the workday in office buildings and spaces, and employers today are increasingly bearing the responsibility of providing a quality workspace. Thus the Office space type is typically a flexible environment that integrates technology, comfort and safety, and energy efficiency to provide a productive, cost-effective, and aesthetically pleasing working environment. Typical features of office space types include the list of applicable design objectives elements as outlined below. For a complete list and definitions of the design objectives within the context of whole building design, click on the titles below.
Integrated Technology: Begin the design process with a thorough understanding of the technological requirements of the space, including anticipated future needs.
Occupancy: Office space types fall into the B2 occupancy classification, with sprinklered construction. The GSA acoustical class is C1 for enclosed offices and Class C2 for open offices.
Flexibility: The office space type is durable and adaptable, and will typically include features such as a raised floor system for the distribution of critical services (power, voice, data, and HVAC) and mobile workstations to accommodate changes in employee, equipment, and storage needs over time.
Comfort and Safety: The health, safety, and comfort of employees is of paramount concern to employers. For this reason, the office space type should be designed with increased fresh air ventilation, the specification of non-toxic and low-polluting materials and indoor air quality monitoring. Non-quantifiable benefits such as access to windows and view, and opportunities for interaction should also be taken into account.
Energy Efficiency: As energy costs increase with higher reliance on technology, strategies such as the specification of high-efficiency lighting and lighting controls; the application of daylighting; the use of occupancy sensors; and the installation of high-efficiency HVAC equipment should be considered. For more information, see Optimize Energy Use.
Example Programs
Two sample building programs and plans are provided, for 'fully closed' and 'fully open' offices. They include minor file and library reference areas, conference space, break space with service unit/coffee bar, and reception area.
"Fully" Closed Office
Description
Tenant Occupiable Areas
Qty.
SF Each
Space Req'd.
Sum Actual SF
Tenant Usable Factor
Tenant USF
Office Spaces
12,170
Enclosed Executive Offices
2
225
450
Enclosed Large Offices
52
150
7,800
Enclosed Small Offices
26
120
3,120
Open Large Office
0
140
0
Open Small Office
0
100
0
Open Workstations
9
80
720
Reception Desk
1
80
80
Support Spaces
3,134
Reception Seating
1
200
200
"Unimproved" Conference
Large
1
600
600
Conference Small
3
150
450
Informal Breakout Centers
0
80
0
Printer/Copier/Fax Center
3
60
180
Break Room Service Unit
1
340
340
Information Reference Centers
2
150
300
Supply Room
4
40
160
Work Room
1
200
200
File Area
2
144
288
Documents Room
1
240
240
Server Room
1
176
176
Tenant Suite
15,304
15,304
1.35
20,592
"Fully" Open Office
Description
Tenant Occupiable Areas
Qty.
SF Each
Space Req'd.
Sum Actual SF
Tenant Usable Factor
Tenant USF
Office Spaces
10,600
Enclosed Executive Offices
0
180
0
Enclosed Large Offices
0
150
0
Enclosed Small Offices
0
120
0
Open Large Office
4
180
720
Open Small Office
15
120
1,800
Open Workstations
100
80
8,000
Reception Desk
1
80
80
Support Spaces
30%
4,614
Reception Seating
1
120
120
"Unimproved" Conference
Large
1
600
600
Conference Small
5
150
750
Informal Breakout Centers
12
80
960
Printer/Copier/Fax Center
3
80
240
Break Room Service Unit
1
340
340
Information Reference Centers
3
180
540
Supply Center
4
40
160
Work Center
1
200
200
File Area
2
144
288
Documents Room
1
240
240
Server Room
1
176
176
Tenant Suite
15,214
15,214
1.35
20,572
Example Plans
The following are representative of typical tenant plans for enclosed and open offices.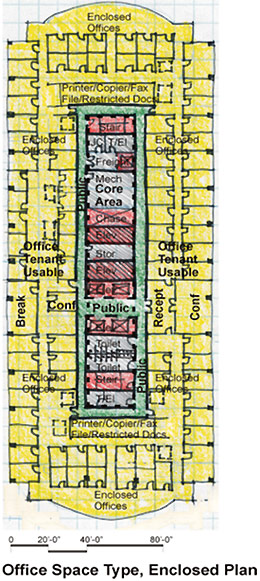 Example Construction Criteria
For GSA, the unit costs for office space types are based on the construction quality and design features in the following table (PDF 43 KB, 4 pgs). This information is based on GSA's benchmark interpretation and could be different for other owners.
Relevant Codes and Standards
The following agencies and organizations have developed codes and standards affecting the design of offices. Note that the codes and standards are minimum requirements. Architects, engineers, and consultants should consider exceeding the applicable requirements whenever possible:
Major Resources
WBDG
Building Types
Educational Facilities, Federal Courthouse, Health Care, Land Port of Entry, Library, Office Building, Research Facilities, Warehouse
Design Objectives
Accessible—Beyond Accessibility to Universal Design, Functional / Operational—Account for Functional Needs, Productive—Design for the Changing Workplace, Productive—Provide Comfortable Environments, Secure / Safe—Provide Security for Building Occupants and Assets, Sustainable—Optimize Energy Use
Project Management
Publications
Architectural Graphic Standards, 11th Edition by Charles Ramsey and Harold Sleeper. New York, NY: John Wiley & Sons, Inc., 2007.
How Buildings Learn by Stewart Brand. New York: Viking, 1994.
The New Office by Francis Duffy. London, England: Conran Octopus Limited, 1997.
Tools