Overview
Within This Page
Outside surface parking refers to large paved areas used for extensive vehicle parking—beyond the incidental parking provided for individuals, official government parking, and short-term drop off—located adjacent to a building. As defined for the WBDG, the Level of Service (LOS) of the outside Surface Parking is LOS A, indicating use by unfamiliar users, high daily turnover, and high percent of small cars and light trucks. This LOS prescribes 24'-0" (w) double flow aisles.
Space Attributes
First and foremost, parking structures—either basement, structured, or surface—must provide for the safe and efficient passage of automobiles as well as visitors to and from their vehicles. Therefore, attention should be given to maximizing visibility for vehicles entering parking lanes and individual spaces, circulating within the parking lot, and entering and exiting the parking area. Typical features of outside surface parking space types include the list of applicable design objectives elements as outlined below. For a complete list and definitions of the design objectives within the context of whole building design, click on the titles below.
Minimal Visual Impact: The surface parking lot should not dominate the building site. Through a combination of planning, architectural, and landscaping elements, the visual impact on the surrounding streets and developments can be minimized. For example, surface parking is generally located to the rear or side of the building and away from the street or street intersections, while providing direct pedestrian access to the buildings. Note that textures, patterns, and colors are encouraged in the design of surface parking in order to provide breaks in large monolithic areas of pavement and distinguish between pedestrian and vehicular movement within the parking area.
Structural Requirements: Typically, surface parking consists of 6" slabs on grade, 4000 PSI, poured on top of a gravel base on compacted fill with a moisture barrier in between the gravel base and the slab. The slab is reinforced with welded wire fabric; the joints and wall junctures are sealed with sealant; and the surface is broom-finished. The light-colored concrete reflects the sun's heat and minimizes the urban heat island effect.
Signage and Wayfinding: Signage should indicate all major internal pedestrian access points as well as external major roads and buildings. In surface parking lots, pavement markings are reflective paint and traffic control signage is usually reflective metal with minimum 5" high letters. The Manual on Uniform Traffic Control Devices for Streets and Highways (ANSI D 6.1e) provides guidance on pavement marking and signage.
Exterior Security Protection: Surface parking is located such that unsecured parking areas are visible from adjacent buildings and safely illuminated. CCTV cameras and parking booths can provide added security by including site surveillance and limiting vehicular access control. See also WBDG Secure/Safe—Security for Building Occupants and Assets.
Lighting: Lighting is used to provide security and access within the parking area at night. The lighting design should prevent off-site lighting and night sky pollution. Meeting or providing lower light levels and uniformity ratios than those recommended by the Illuminating Engineering Society of America are recommended. Strategies include: parking lot light fixtures that use fixture cutoffs and/or are optically controlled for light spillover and glare beyond the boundary of the development; and outdoor fixtures that are oriented and shielded to prevent direct illumination above the horizontal surface passing through the fixture. Outdoor lighting should be energy efficient, metal halide/high pressure sodium/or similar sources.
Site Improvements: Typical site improvements directly related to the surface parking include ground cover and planting, storm water handling systems, vehicle parking surfaces and roadways, sidewalks directly abutting parking areas, lighting within the parking area, signage, and fences and screens around the parking and buffer zones between parking and public areas.
Landscaping and Storm Water Management: Landscaping elements such as berms, walls, and indigenous hedges and trees are usually used to screen the periphery of the surface parking lot. Intermediate islands within the surface parking provide opportunities to plant native and/or adapted trees, which can provide shade in pedestrian walkways. Also, low impact development strategies, such as bioretention cells, should be incorporated into the surface parking design to maximize on-site infiltration of stormwater.
Example Plans
The following diagram is representative of typical tenant plans.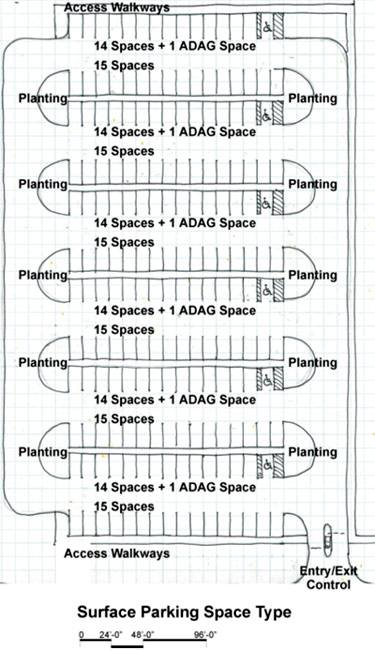 Example Construction Criteria
For GSA, the unit costs for outdoor surface parking space types are based on the construction quality and design features in the following table . This information is based on GSA's benchmark interpretation and could be different for other owners.
Relevant Codes and Standards
The following agencies and organizations have developed codes and standards affecting the design of outdoor surface parking. Note that the codes and standards are minimum requirements. Architects, engineers, and consultants should consider exceeding the applicable requirements whenever possible:
Additional Resources
WBDG
Building Types
Educational Facilities, Federal Courthouse, Health Care Facilites, Libraries, Office Building, Parking Facilities, Research Facilities
Space Types
Basement Parking, Structured Parking
Design Objectives
Functional / Operational—Account for Functional Needs, Secure / Safe—Security for Building Occupants and Assets, Sustainable—Optimize Site Potential
Publications