Overview
Within This Page
The Joint Use Retail space types are stores used for the sale of products and services. Joint Use Retail space types may include news and book stands, flower shops, convenience stores, travel agencies, credit unions, dry cleaning services, shoe shine stands, barber and beauty shops, print shops, courier mail shops, retail of clothing or other hard goods, and similar applications.
Features that are not included in this space type are: dry cleaning services, cashier windows, vaults, built-in safes, drive-through windows, or pneumatic tube systems, barber and beauty shops, and print shops. Some types of leased spaces may be more characteristic of other space types, such as offices for insurance agencies (Office) and pharmacies (Health Care).
Space Attributes
Unique to Joint Use Retail space types is the integration of aesthetics into the entrances, windows, and retail areas within the space that help designate the space as commercial, and that can be easily distinguished from areas of the space that are accessible only to retail employees. Typical features of Joint Use Retail space types include the list of applicable design objectives elements as outlined below. For a complete list and definitions of the design objectives within the context of whole building design, click on the titles below.
Public Entryway Features: Entrances that are for public use are generally situated so as to open directly onto public circulation systems. Design entrances to incorporate occupant and merchandise security into the overall aesthetic goals. See also WBDG Aesthetic Challenges.
Merchandise Display Systems: Unique to this space type are display systems such as shelving and casework. These systems are typically designed for 80 LB/SF of live load. In certain retail environments casework is mobile, allowing for greater flexibility on the sales floor.
Separate Utility Metering: The Joint Use Retail space type is typically designed to include separate electrical metering for each tenant-occupied space.
Occupancy: The occupancy classification for the Joint Use Retail space type is Mercantile Group M or Business Occupancy B, with sprinkler protected construction and GSA Acoustical Class C1 for enclosed offices. See also WBDG Secure/Safe—Fire Protection.
Cashier and Limited Access Areas: Joint Use Retail space types will typically include areas that as designated as ";employee only"; access, such as a manager's office, employee kitchen/lavatory, and merchandise and general storage. These areas will require increased security around doors and other access ways.
Retail Window Display: Retail window display systems such as neon enterprise signage and display and decorative lighting should be designed to be energy efficient when possible. Take advantage of natural daylighting and ventilation to lower utility costs, and consider utilizing window display features as shading devices to decrease direct solar gain. For more information, see Energy-Efficient Lighting, Daylighting, and Windows and Glazing.
Example Program
The following building program is representative of Joint Use Retail space types.
JOINT USE RETAIL
Description
Tenant Occupiable Areas
Qty.
SF Each
Space Req'd.
Sum Actual SF
Tenant Usable Factor
Tenant USF
Hearing Facilities
 
 
 
1,310
 
 
    Entry Display
1
200
200
 
 
 
    Cashier Counter
2
80
160
 
 
 
    Display
20
20
400
 
 
 
    Customer Service
    Representatives
3
60
180
 
 
 
    Manager Office
1
150
150
 
 
 
    Staff Workstations
2
80
160
 
 
 
    Lavatory
1
60
60
 
 
 
    Store Room
1
300
300
 
 
 
    Housekeeping
1
80
80
 
 
 
 
 
 
 
 
 
 
    Tenant Suite
 
 
1,690
1,310
2.07
2,714
 
 
 
 
 
 
 
Tenant Usable Areas
 
 
 
 
 
2,714
Example Plans
The following diagram illustrates representative tenant plans.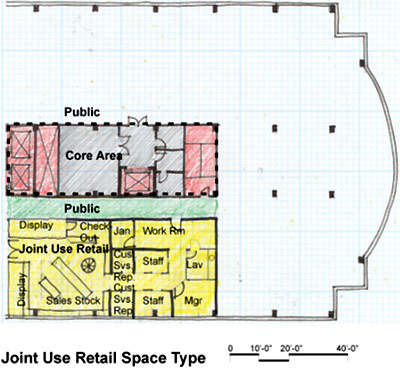 Example Construction Criteria
For GSA, the unit costs for Joint Use Retail space types are based on the construction quality and design features in the following table . This information is based on GSA's benchmark interpretation and could be different for other owners.
Relevant Codes and Standards
The following agencies and organizations have developed codes and standards affecting the design of Joint Use Retail space types. Note that the codes and standards are minimum requirements. Architects, engineers, and consultants should consider exceeding the applicable requirements whenever possible.
Additional Resources
WBDG
Building Types
Federal Courthouse, Healthcare, Library, Office Building, Research Facility
Design Objectives
Functional / Operational—Account for Functional Needs, Productive—Design for the Changing Workplace, Secure / Safe—Security for Building Occupants and Assets, Sustainable—Optimize Energy Use
Building Commissioning
Publications