Overview
Within This Page
Indoor environments have strong positive effects on occupant well-being and functioning, especially attributes such as the amount and quality of light and color, the sense of enclosure, the sense of privacy, access to window views, connection to nature, sensory variety, and personal control over environmental conditions. Designing to enhance psychological well-being will therefore have positive impacts on work effectiveness and other high value outcomes, such as stress reduction, job satisfaction, and organizational commitment.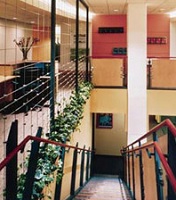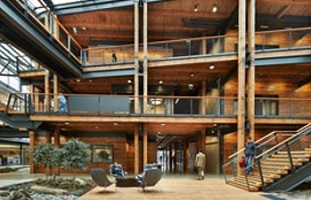 To reap the fiscal, physical, and psychological benefits of healthy buildings, projects must have a comprehensive, integrated design and development process that seeks to:
Indoor environments also strongly affect human health. For example, the EPA estimates that the concentration of pollutants (like volatile organic compounds) inside a building may be two to five times higher than outside levels. A 1997 study by W.J. Fisk and A.H. Rosenfeld (Estimates of Improved Productivity and Health from Better Indoor Environments. Indoor Air Vol. 7, pp. 158–172) reports that the cost to the nation's workforce of upper respiratory diseases in 1995 was $35 billion in lost work plus an additional $29 billion in health care costs. The study estimates that more healthful indoor environments could reduce these costs by 10%-30%.
Implementing sustainable design principles will also help achieve these objectives.
Recommendations
Provide Maximum Access to Natural Daylight and Views to the Outdoors
Provide Superior Ventilation
Control Sources of Indoor Air Contamination
Prevent Unwanted Moisture Accumulation
Enhance the Psychological Effects of Space
Additional Resources
WBDG
Building / Space Types
Applicable to all building types and space types, especially those regularly occupied or visited.
Design Objectives
Accessible, Aesthetics, Cost-Effective, Functional / Operational, Historic Preservation, Secure / Safe, Secure / Safe—Ensure Occupant Safety and Health, Secure / Safe—Provide Security for Occupants and Assets, Sustainable, Sustainable—Use Environmental Preferable Products, Sustainable—Enhance Indoor Environmental Quality, Sustainable—Optimize Operational and Maintenance Practices
Project Management
Project Planning, Management and Delivery, Building Commissioning
Tools
Building Life-Cycle Cost (BLCC)
Provide Maximum Access to Natural Daylight
Provide Superior Ventilation
Control Sources of Indoor Air Contamination
Prevent Unwanted Moisture Accumulation
Enhance the Psychological Effects of Space
Organizations
Publications