by Joseph C. Dean, P.E. for the Director, Corrosion Policy & Oversight (DCPO), (DASD) [Materiel Readiness]
Updated: 11-20-2019
Introduction
Within This Page
Corrosion prevention and control (CPC) plays a significant role in facility SRM and O&M of DoD installations. SRM engineering and design for CPC include the full range of efforts from corrosion problem identification to selection of criteria and development of plans and specifications. Problem solving may require analysis of an issue, such as determining the cause of spalling concrete cover over reinforcing steel, identifying a coating failure, or the correction of a cathodic protection malfunction. In order to determine the best course of action, it is often essential to determine the cause and rate of corrosion. Identification of design defects, improper materials and coating selection, and construction impacts will help the engineer, architect and maintenance professional determine what corrective CPC measures are required.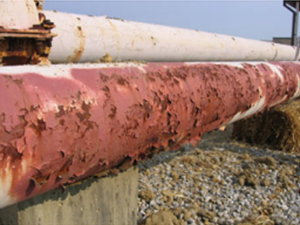 Examples include correcting a spalling failure through removal of the concrete cover and rusted surface of the reinforcing steel, repairing the concrete and ultimately denying access of the elements to the reinforcing steel. Another problem solution might include adding dehumidification where needed, adding HVAC water treatment, selection of specialized coatings, or determining which type of power pole replacement material should be used in highly corrosive soils. These "solutions" may not require full plans and specifications and may be expeditiously resolved using simplified acquisition. Discovering the problems before they become unsolvable without extensive investment is an essential feature of SRM management. This section will discuss the importance of good SRM management and its relationship to CPC.
The Facilities Operations and Maintenance Program and CPC
The control of corrosion occurs through a well planned and executed facilities operations and maintenance (O&M) program. The elements of the O&M program should include a focus on all aspects of corrosion. Leveraging the knowledge gained from facilities data and information along with an aggressive CPC education program will dramatically improve the installation's chances of discovering issues before failure and mission degradation occurs.
The extent of facilities corrosion management will vary based upon available financial and manpower resources. However, preventive maintenance is usually more cost effective than corrective maintenance as materials degrade at a higher rate once chemical deterioration begins (ex. Formation of rust). Modern day facilities management relies more on predictive modeling for determining requirements rather than prior approaches of utilizing craftsmen and other experts to actually perform visual inspections. Certainly, inspections occur, but they tend to be focused and not routine. If "corrosion" is not considered as a high priority then it is very possible that only a failure of a structure or unsightly rust might motivate a repair initiative. Identifying, prioritizing and budgeting for a CPC deficiency or requirement increases the chances of it being identified or a specialized CPC feature is required in a new or repaired facility, it has a greater chance of being identified in the final RFP and constructed project. In other words, assuming CPC features will somehow just happen is unreasonable and irresponsible. The SRM manager must be proactive to ensure that CPC requirements are discovered, addressed and included in all appropriate projects regardless of size and complexity.
A well-organized maintenance program should thoroughly capture projects through recording workload, planning and conducting emergency and routine repairs, recurring work and regularly scheduled inspections, preventive maintenance, and scheduled repair or replacement of facility components as needed to maintain and sustain the facility. A facilities management program that includes CPC data elements should be used to ensure appropriate tracking, budgeting and scheduling. The DoD requires the development of a Facility Condition Index (FCI) metric. This enables real-property professionals to make informed and accurate decisions about facility conditions, workload distribution and to meet operational readiness requirements. The DoD has established a "DoD-wide facility condition assessment process that incorporates the Sustainment Management System developed by the U.S Army Corps of Engineers' Engineer Research and Development Center – Construction Engineering Research Laboratory (ERDC-CERL). The SMS application commonly known as Builder® will enable trained building inspectors, engineers, technicians, and maintenance-shop personnel to determine when, where, and how to best maintain facility infrastructure, and will provide sustainment experts with real-time, integrated data on the condition, functionality, and remaining service life of DoD facilities, service systems, and components." It will facilitate the development of long and short-range maintenance and repair work-plans, and help budget development focusing on most needed investments.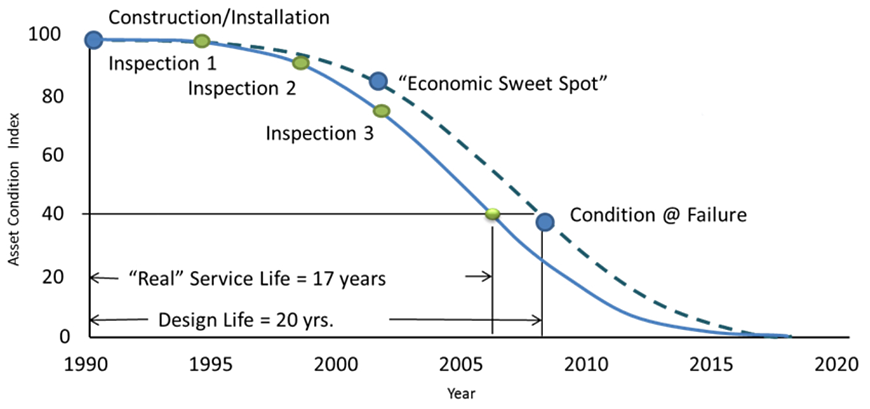 Another important DoD initiative is the Facility Recapitalization Initiative that concentrates on ensuring that warfighter needs are met, either through the use of existing facilities or through the fiscally responsible construction of new facilities. The facility recapitalization program is focused on the following:
"Sustaining current facilities;
Achieving inventory-wide facility condition index (FCI) goals;
Ensuring that all DoD facilities are capable of meeting mission requirements and providing a reasonable quality of life to DoD personnel using them; and
Establishing methods to identify and remediate within a reasonable timeframe any "failing facilities," i.e., facilities in poor physical condition; through demolition, replacement, or repair."
Timely and effective management of corrosion prevention and control is a key contributor in making balanced evaluations and decisions in support of these programs.
The Facilities Corrosion Strategy
Developing and following a Corrosion Strategy will have a positive impact on the life cycle. Corrosion should be addressed continuously during the facility life cycle. Relevant corrosion related requirements in specifications and standards should be understood, referenced and distributed to all project team members.
Elements of a good strategy include:
Establishing good lines of communication to receive and convey all aspects of corrosion prevention and control and its potential impact to the facility's life cycle costs.
Implementing design best practices for improved life cycle CPC.
Communicating all CPC contract requirements to the acquisition Team (e.g. Project Manager, Design Manager, Construction Manager, Contractor, Architect/Engineer, Construction Inspector, Quality Control Representative, Sustainment workforce, etc.).
Improving education and training of sustainment personnel in the recognition and implementation of constructed CPC features in the completed project. See the CPC Source Training Page for available resources and insights.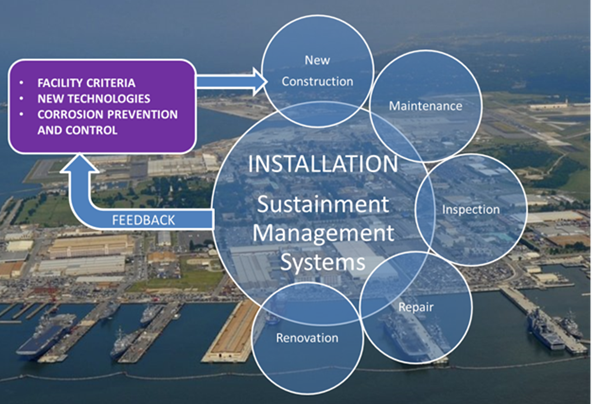 Preventive Maintenance and CPC
Preventive maintenance is more cost-effective than corrective maintenance; discovering and acting upon corrosive degradation interrupts the life cycle and avoids the formation of rust and the beginning of chemical deterioration. The information collected during routine maintenance inspections, including obtaining advice from journeyman who knows the facility well will help in determining corrosion mitigation strategies.
Suggested resources and actions for the development of a maintenance program include:
Recorded component maintenance and replacement history
As-built engineering drawings and contract specifications
Construction submittals
Contracting Officer Technical Representative (COTR) and subject matter expert (SME) interviews and reports
Architect/Engineer of record design intent
Contract design criteria and guide specifications
Design characteristics and geometrics most likely to incur corrosion defects
Electronic Operations and Maintenance Support Information (e-OMSI) (e.g. as-built conditions, installed information on CPC features, guidance on sustainment actions, etc.) (See e-OMSI Scope of Work, Design-Build Model Request for Proposal—Standard Template, and Comprehensive Facility Operation and Maintenance Manual) provided by the Construction Agent during facility turnover. Note: SRM Managers should insist on receiving these essential documents along with systems training to ensure life-cycle sustainability and durability for the life cycle.
Operations and maintenance data captured during construction should include product and equipment data such as material type, grade, finish, and coating information; components and systems should be documented before being covered up/enclosed in walls, foundation, and backfill, to include photographic documentation if possible. Data and information updates should also include changes made during normal day to day sustainment operations.
For existing facilities establish the type and extent of inspection to identify corrosion and other deficiencies and failures. This includes leveraging facility knowledge mentioned in previous bullets (e.g. type of materials and coatings used). Based upon this information, corrective measures can be pursued.
Leveraging a sustainment management system (SMS) to facilitate good and cost-effective decisions. The sustainment management system will assist with maintenance planning, preventive maintenance scheduling and tracking, corrective work planning and management and cost control. The sustainment management information system should support the installation's information system requirements along with providing essential history and repair program budgeting and scheduling.
Thoughts on Sustainment Management Professional Proficiencies
Recommended proficiencies for the sustainment professional will vary based upon many factors including the size and operational tempo of the installation, complexity of the facilities, and location specific environmental severity impacts. The CPC Source Competencies page has been developed to assist in establishing recommended knowledge levels for sustainment professionals engaged in CPC. Pursuit of appropriate coursework to assist in achieving these knowledge and professional levels can be found on the CPC Source Training web page.
CPC Sustainment Summary
CPC sustainment actions must be in line with the facility life cycle objectives to ensure sound budgeting and wise expenditure of what is often a very limited sustainment budget. Several recommend actions for the Sustainment engineer, architect and maintenance professional to consider include:
Developing a CPC Preventive Maintenance Strategy
Conducting inspections and data capture to include the type and extent of corrosion, component material, coatings, warranties, age, and maintenance history
Following best practices in CPC maintenance and work scheduling
Ensuring that CPC management supports operations and mission
Conducting CPC operator training
Early consideration of the maintenance approach for a new or renovated facility to take advantage of the CPC design strategy and new CPC technologies
Ensuring that facility turnover includes discussion and documentation of CPC features is included in the constructed project
Understanding CPC specialty (knowledge) areas. In some cases the individual engineer organizations may have SMEs to provide assistance if needed. Often these experts reside at the service laboratories ( The Engineer Research and Development Center, Construction Engineering Research Laboratory, (ERDC-CERL), Naval Facilities Engineering and Expeditionary Warfare Center (NAVFAC EXWC), and Air Force Civil Engineer Center (AFCEC). In addition to the SMEs found at the Service labs, there are SMEs that are part of the UFC program for each service. A partial list of CPC Knowledge Areas includes the following:

Coatings
Waterfront Structures
Tanks, pipelines
Roofs

SRM Engineer being involved in problem identification and solution development
Participation in RFP and selection factor development, etc.
Planning and Estimating – ensure accuracy and knowledge of CPC in sustainment
SRM Engineer ensuring that maintenance force training occurs, attention to e-OMSI data and information accuracy in order to position the workforce to best perform
Understanding the role that cleaning and maintenance plays in preventing corrosion; this includes avoiding the accumulation of debris, blocking of drains, deterring painting in lieu of cleaning, and enhanced monitoring of CPC health of the facilities
Monitor in place detection systems such as cathodic protection and SCADA
Budgeting – leverage SMS knowledge to develop accurate, defensible budgets and maintenance plans
Government Sustainment Engineer/Architect establish in the contract the expectations for CPC and for the associated proficiency levels of contractor employees to ensure that CPC solutions are correctly delivered
Relevant Codes and Standards
Department of Defense
Unified Facilities Criteria (UFC) (Partial List)
Unified Facilities Guide Specifications (UFGS)
U.S. Army Corps of Engineers
Navy - NAVFAC
General Service Administration (GSA)
National Association of Corrosion Engineers (NACE) and Society for Protective Coatings (SSPC)
ADDITIONAL RESOURCES
WBDG
Publications
Training
Organizations
Defense Acquisition University
Federal Facility Criteria: