by Joseph C. Dean, P.E. and Steve Geusic, P.E. for the Director, Corrosion Policy & Oversight (DASD) [Materiel Readiness]
Updated: 06-28-2018
Introduction
Within This Page
Expanding the knowledge and understanding of corrosion prevention and control (CPC) to best utilize criteria, new technologies, and promote good corrosion engineering practice is an essential goal of the corrosion program overall. Having facilities CPC specific focused training is essential to ensure that planning, design, construction sustainment, restoration, and modernization (SRM) engineers, architects, and maintainers can easily identify and focus on CPC needs. The Facilities and Infrastructure Corrosion Evaluation (FICE) Study found that facilities field professionals (e.g. engineers, architects, PW managers, tradesmen, etc.) would like to see short and to the point training packages available online. This Training page reviews provides current training and educational opportunities available to facilities personnel in both the government and private sectors. Please monitor this page over timefor additional learning opportunities.
Description
The Department of Defense (DoD) Office of Corrosion Policy and Oversight is partnering with the National Institute of Building Sciences (NIBS) in providing CPC training focused on the needs of government and private sector professionals involved with the planning, design, construction, and sustainment of DoD facilities. Although the training is geared towards the DoD facilities life-cycle, the content is applicable to non DoD facilities and relevant to the building and infrastructure community.
The expanded definition of CPC as defined in 10 USC 2228 includes chemical deterioration of any material including corrosion of metals (rust), ultraviolet degradation, rotting of wood, degradation of concrete (carbonation, alkali-silica reaction phenomena, degradation of composite materials, destruction of organics from mold and mildew, and material degradation due to erosion, stress induced cracking, embrittlement. These corrosion mechanisms and the prevention and control strategies will be covered across a variety of current and planned facilities topics, including:
Corrosion Fundamentals
Paints and Coatings
Cathodic Protection Basics
Utilities
Waterfront and Coastal Structures
Fuel Utilities and Storage Tanks
HVAC Systems/Building Envelope
CPC Facilities Lifecycle (Design/Construction/Sustainment)
Reinforced Concrete and Pavements
Industry Training
A wide array of online, seminar and classroom training opportunities are available for the facilities Community. The professional societies such as the American Institute of Architects (AIA), the American Society of Civil Engineers (ASCE), and the American Society of Heating, Refrigerating, and Air-Conditioning Engineers (ASHRAE) provide an extensive list of facilities focused CPC training. Topics include Design and Renovation of Wood Structures, Corrosion in Steel Reinforcing Concrete Structures, Corrosion Prevention in Construction Fastening Systems, Advanced Moisture, Mold and Building Envelope Workshop, Humidity Control: Applications, Control Levels & Mold Avoidance, Humidity Control Principles & Applications, and Fundamentals of Water System Design (for mechanical systems). The National Association of Corrosion Engineers (NACE)and The Society for Protective Coatings (SSPC) offer an extensive list of corrosion centric courses. These courses vary in length from an online, asynchronous, format to a classroom or seminar setting. The D, CPO may be able to provide tuition support for DoD employees for some training opportunities provided by NACE International and SSPC.
The CORRDEFENSE website, sponsored by the D, CPO has the following general training opportunities on several topics including "Battling Equipment Corrosion" and "Corrosion Comprehension" that might be useful for the facilities Professional interested in learning more about CPC. Also included are podcasts on DODI 5000.67 and 10 USC 2228. CorrDefense.org, also has a large selection of courses on Corrosion topics including:
Cathodic Protection
Industrial Coatings
Specifications and Requirements
Corrosion Comprehension
Corrosion Continuous Learning
For an expanded list of training resources see the Additional Training and Professional Development Resources section below on this web page and the D, CPO Recommended Facilities Corrosion Training Summary Table and explanation. This Training Summary Table and the accompanying explanation distributes courses into "Tracks" (Basic, Subject Matter Expert, Inspector, Construction Surveillance, designer, Sustainment, Field Professional, and Acquisition) and "Levels" (Basic, Intermediate, and Advanced). Contacts and tuition information (DoD government employees only) are also provided.
DoD Training Courses
Currently there are several training modules providing PDHs along with others in development. They can be found at this link under "DoD Courses." They include:
Cathodic Protection Basics (1 PDH)
Corrosion Prevention and Control of Utilities and Buried Structures (1 PDH)
Waterfront and Coastal Structures (1 PDH)
The Corrosion Overview vignette explains corrosion impacts to facilities & infrastructure and why they are important to the Department of Defense. It includes the "expanded" definition of corrosion, and the current laws, policies, and guidance that govern prevention and control. The training also explains the environmental factors which induce corrosion and identifies the general control and mitigation strategies to employ over the facility life cycle. (15 minutes)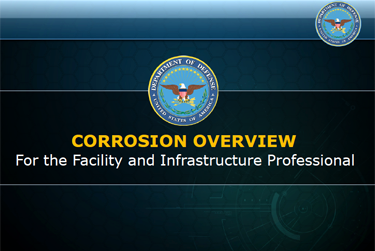 This vignette addresses corrosion prevention and control (CPC) requirements and opportunities during project development for Department of Defense (DoD) facilities & infrastructure, specifically for the Planning & Programming Phases, the RFP Development Phase, and the Design Phase. It also includes corrosive environmental elements and identifies corrosion prevention and control criteria, design strategies, and resources available to planners, project managers, and designers to utilize on DoD facility and infrastructure projects. (20 minutes)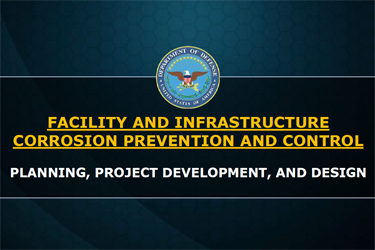 Proper selection and application of paints and coatings are a key design and maintenance strategy for the protection and mitigation of corrosion for facility components and infrastructure. This vignette is an introductory level course covering the fundamentals of paint classification, types of coatings, surface preparation, application, inspection, and defects and failures. The training explains related SSPC standards, Unified Facility Guide Specifications, and tools for paints and coatings selection. (20 minutes)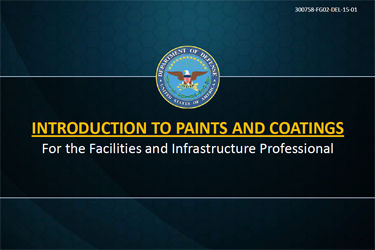 This vignette addresses corrosion prevention and control (CPC) impacts and opportunities during facility sustainment for the Department of Defense (DoD). It is targeted at facility managers and sustainment professionals responsible for maintenance and repair. The training helps with the identification of corrosion types and causes for key building systems and infrastructure. Additional information is presented on CPC associated with preventive maintenance, environmental factors, cathodic protection, paints and coatings, and mold. (30 minutes)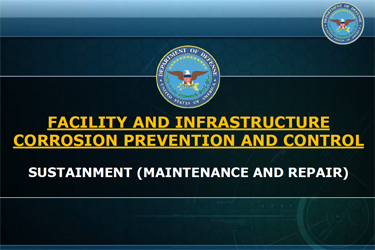 This vignette identifies corrosion prevention and control (CPC) impacts and opportunities during facility construction for the Department of Defense (DoD). It is targeted at construction contractors, quality control and assurance specialists, construction managers, designers, and other professionals responsible for quality assurance during facility construction. (20 minutes)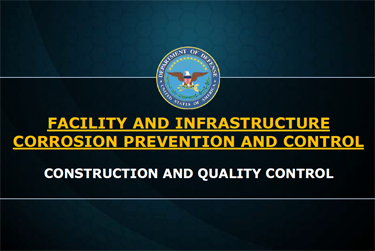 Relevant Codes, Standards, and Guidelines
Additional Resources
It is recommended that Facilities Professionals check out the available training resources at the following websites:
Federal Facility Criteria: