Introduction
Within This Page
Evolution of FM Information Technologies
The scope of Facility Management (FM) has both broadened and become more complex over the last few decades. FM responsibilities that at one time consisted primarily of operating and maintaining singular buildings, now include: Environmental Health and Safety (EH&S) and code compliance, utility management, energy and sustainability management, business continuity and resilience planning, strategic asset management, space management and planning, event planning, construction and project management, strategic planning, capital planning, budgeting and financial management, and real estate portfolio management1.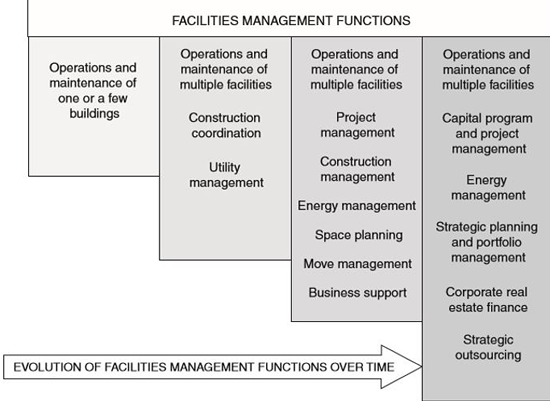 As the scope and complexity of FM have increased, so too have the supporting information technologies. Today, a wide array of FM information technologies exists to support FM activities. While these technologies have been placed in categories based on core functionality, they now fall on a spectrum of capabilities, the foundation of which are computerized maintenance management systems (CMMS). The spectrum of software functionality increases, of in a modular context, to the higher—end integrated workplace management systems (IWMS) and enterprise resource planning (ERP) applications. Descriptions of the various categories of FM information technology applications are provided in the following section (see Description).
FM technologies have evolved since the late 1980's, leveraging the personal computer (PC) to automate the collection and maintenance of FM information. Widespread usage of Information Technology (IT) systems in almost all disciplines eventually penetrated the construction and FM industry as well. After the development of Internet—based database systems, usage of high—end tools in FM practices increased in that sector. CMMS and IWMS software applications provide the facility manager with the tools to track, plan, manage, and report on facilities information.
FM technologies combine and analyze complex data to improve FM practices throughout a variety of industries including government, healthcare, educational, commercial, and industrial environments. The systems give decision—makers the ability to automate many of the data—intensive facility management functions and typically results in continuous cost savings and improved utilization of assets throughout their entire life cycle.
Although there is no ideal model suitable for all situations, to meet the specific demands of the facility manager, a well-developed FM information system will often include a variety of functions and features. FM technologies typically provide and maintain information on floor plans, property descriptions, space utilization, energy consumption, equipment locations, and other critical infrastructure data that pertains to the sector it is serving.
It is important to note that FM information technologies continue to evolve at a rapid pace, further blurring the conventional lines of capabilities. Even the basic CMMS continue to add functional modules to enhance capabilities. In addition, the use of handheld (mobile) technologies that seamlessly interface with the CMMS and IWMS applications continues to expand.
Description
FM technologies consist of a variety of software applications and information sources that may include object-oriented database systems, Computerized Maintenance Management Systems (CMMS), Integrated Workplace Management Systems (IWMS), and Project Delivery Systems, CAD systems, Revit, Building Information Models (BIM), and interfaces to other systems such as Building Automation Systems (BAS) and Enterprise Resource Planning (ERP) applications. Today most systems are web-based and provide a host of features including facilities-related scheduling and analysis capabilities. Data may be collected from a variety of sources through technology interfaces or human transfer processes. Data may be stored, retrieved, and analyzed from a single data-store.
The following present generally accepted terminology commonly used to describe the various types of FM information technologies.
CMMS AND EAM SYSTEMS
Computerized Maintenance Management Systems (CMMS) — CMMS is software that is used to manage primary facilities operations and maintenance (O&M) activities. CMMS support the scheduling and recording of preventive/planned maintenance activities associated with facility equipment, and to generate work orders (WO) for corrective maintenance. Typical CMMS modules include: equipment inventory management, warehouse/stockroom inventory control and management, purchasing, work request/WO tracking and management, preventive maintenance, utilities management, resource and contractor management, project management, and reporting/dashboards. Space management is provided via simple location hierarchies in a relational database format.
CAFM
Computer-Aided Facility Management (CAFM) Systems — CAFM systems were traditionally software applications that included core CMMS functionality and incorporated CAD or GIS—based spatial management capabilities. They were generally used to manage building space allocation, space planning, and support move management in addition to the basic WO processes. Today, this class of software has expanded to include more FM functionality and is now generally referred to as integrated workplace management systems (IWMS).
IWMS
Integrated Workplace Management Systems (IWMS) — The term IWMS refers to FM information systems with the broadest functionality to support real estate and FM requirements. Effectively, IWMS have evolved from CAFM systems and can encompass the entire life cycle of the facility, from design to construction and operations. IWMS are enterprise—class software platforms that integrate five key functional domains within a single hosted database. The functional domains typically include: Maintenance management, space management and planning, real estate and lease management, project portfolio management, and environmental sustainability.2
PROJECT PROCUREMENT, DELIVERY, AND MANAGEMENT SYSTEMS
Project Procurement, Delivery and Management Systems (Project Delivery) — Project Delivery Systems commonly employ various proven LEAN processes in an attempt to improved overall project timing, delivery times, quality, and reduced costs. They may include one or several aspects of Project Delivery from individual project management once initiated, to management of the full construction project life-cycle. Based upon the application of these systems, research has demonstrated that up to 90% of projects can be delivered on-time, on-budget, and the satisfaction of all participants.
ERP
Enterprise Resource Planning (ERP) — ERP is business process management software that allows an organization to use a system of integrated applications to manage business processes and automate many organizational functions related to technology, facility services, financial management, and human resources (HR) management. ERPs are primarily used as the main financial management system for many institutions, agencies, and corporations. Several have integrated facility management modules that include many CMMS and IWMS functions.
BAS / BMS
Building Automation Systems (BAS) — Building automation is the automated and centralized control of a building's heating, ventilation, and air—conditioning (HVAC), lighting, life safety, and other systems through a building management system (BMS) or building automation system (BAS). While they are generally building controls oriented, current BAS have enhanced information management and analytics capabilities.
Challenges and Obstacles
FM information technologies are designed to support facility workflow processes, provide data for facilities decision—making and to help measure FM performance. While there are many benefits, facility managers still face a variety of challenges in successfully implementing and managing facilities information management technologies. Research indicates that a majority of FM information technology implementations either fail, or lead to solutions that are pervasively underutilized. Some of the most common reasons for these systems failing to meet the needs of users include the following:
Not having an adequate understanding of what the user wants to get out of the system prior to implementation
Poorly defined outcomes—based performance measures early in the process
Inadequate definition and application of data standards
System configuration standards not designed to enable reporting of the desired KPIs
Poorly defined information exchanges or application interface requirements
Lack of understanding of the resources required to implement and maintain the technology and data
Inadequate training of users on workflow processes aligned with the software standard operating procedures
Lack of training of FM trades on the recording of critical data and consistency in workflow processes
The challenge for facility managers is to overcome these failure points by focusing on a systems approach to implementing and long-term management of the technologies. Successful implementations include: defining goals and objectives of the application upfront, establishing true outcomes—based performance measures, development of consistent and comprehensive data standards, proper configuration of the software to enable analytics and reporting, and establishment and training staff on data capture and maintenance, and consistent workflow processes.
Relevant Codes and Standards
Relevant standards for FM information technologies are based on geospatial, CAD, BIM, and Database file formats.
CAD-GIS-BIM Open Standard-OWS—4
Facilities Information Classification Manual (FICM)
International Property Measurement Standard (IPMS)
ASTM Uniformat II and CSI Uniformat
International Organization for Standardization (ISO)
Additional Resources
WBDG
Building Types / Space Types
Applicable to all building types and Space Types
Publications
Core Competencies for Federal Facilities Asset Management Through 2020: Transformational Strategies By National Research Council (NRC). Washington, DC: National Academies Press, 2008
Facility Management, 2nd Edition by Edmond P. Rondeau, Robert Kevin Brown, Paul D. Lapides. ISBN: 0-471-70059-3, Wiley, January 2006
Facility Management Technology by Teicholz, Eric, and Takehiko, Ikeda. ISBN: 0-471-10234-2, John Wiley & Sons, Inc., 1995
Magic Quadrant for Integrated Workplace Management Systems by Gartner, Inc. 2014
Organizations
Websites
BAS Providers (e.g., ABB, Emerson, Trane, Johnson Controls, Automated Logic, Siemens, Honeywell, Schneider, etc.)
CMMS Software Providers (e.g., IBM Maximo, TMA Systems, Corrigo, Maintenance Connection, Four Rivers Software, Maintstar, Mainsaver, Dude Solutions, Accruent 360-Facility, etc.)
ERP Software Providers (e.g., SAP, Oracle, JD Edwards, Lawson, Kuali, Deltek, Workday, IQMS, Microsoft Dynamics, etc.)
IWMS Software Providers (e.g., Planon, Archibus, FM:Systems, Qube, Tririga, Manhattan Software, AssetWorks, Accruent, Indus Systems, Business Integration Group, etc.)
U.S. Department of Defense Real Property Categorization System (RPCS) CatCodes
Endnotes
1 National Research Council (NRC). 2008. Core Competencies for Federal Facilities Asset Management Through 2020: Transformational Strategies. National Academies Press. Washington, DC
2 Gartner, Inc. 2014. Magic Quadrant for Integrated Workplace Management Systems