Sustainable
Last updated: 11-15-2012
Within This Page
Overview
Building construction and operation have extensive direct and indirect impacts on the environment. Buildings use resources such as energy, water and raw materials, generate waste (occupant, construction and demolition), and emit potentially harmful atmospheric emissions. Building owners, designers, and builders face a unique challenge to meet demands for new and renovated facilities that are accessible, secure, healthy, and productive while minimizing their impact on the environment.
Considering the current economic challenges, retrofitting an existing building can be more cost effective than building a new facility. Designing major renovations and retrofits for existing buildings to include sustainability initiatives reduces operation costs and environmental impacts, and can increase building resiliency.
Source: EPA, 2004
Recent answers to this challenge call for an integrated, synergistic approach that considers all phases of the facility life cycle. This approach, often called "sustainable design," supports an increased commitment to environmental stewardship and conservation, and results in an optimal balance of cost, environmental, societal, and human benefits while meeting the mission and function of the intended facility or infrastructure.
The main objectives of sustainable design are to avoid resource depletion of energy, water, and raw materials; prevent environmental degradation caused by facilities and infrastructure throughout their life cycle; and create built environments that are livable, comfortable, safe, and productive.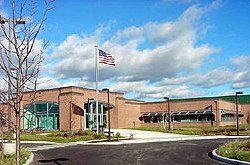 EPA's New England Regional Laboratory (NERL) achieved a LEED Version 1.0 Gold rating. From conception the project was charged to "make use of the best commercially-available materials and technologies to minimize consumption of energy and resources and maximize use of natural, recycled and non-toxic materials." Chelmsford, MA
While the definition of sustainable building design is constantly changing, six fundamental principles persist.
Related Issues
Building resiliency is the capacity of a building to continue to function and operate under extreme conditions, such as (but not limited to) extreme temperatures, sea level rise, natural disasters, etc. As the built environment faces the impending effects of global climate change, building owners, designers, and builders can design facilities to optimize building resiliency.
Building adaptability is the capacity of a building to be used for multiple uses and in multiple ways over the life of the building. For example, designing a building with movable walls/partitions allow for different users to change the space. Additionally, using sustainable design allows for a building to adapt to different environments and conditions.
Relevant Codes, Laws, and Standards
Codes and Laws
Standards
ASTM E2432 Standard Guide for the General Principles of Sustainability Relative to Building
ASHRAE 189.1-2011 Standard for the Design of Green Buildings, except Low-Rise Residential Buildings
IGCC-2012 International Green Construction Code, International Code Council
Major Resources
WBDG
Building Types / Space Types
Applicable to most building types and space types.
Design Objectives
Information in these Sustainable pages must be considered together with other design objectives and within a total project context in order to achieve quality, high—performance buildings.
Products and Systems
Building Envelope Design Guide—Sustainability of the Building Envelope
Federal Green Construction Guide for Specifiers:
Project Management
Tools
Building Life-Cycle Cost (BLCC), Construction Waste Management Database, Decision Support Tools for Green Building, Sustainable Facilities Tool
Federal Agencies
Publications
Organizations
Others
Training Courses