The Gateway to Up-To-Date Information on Integrated 'Whole Building' Design Techniques and Technologies
The goal of 'Whole Building' Design is to create a successful high-performance building by applying an integrated design and team approach to the project during the planning and programming phases.
WBDG Updates
This section pertains to the physical protection of occupants and assets from man-made and natural hazards.
Related topics: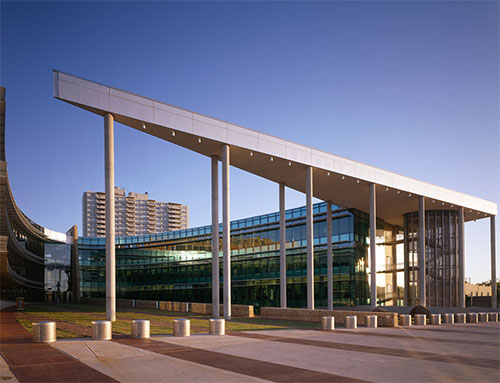 Strategies and Trends for Mid-Rise Construction in Wood
Growing demand for mid-rise buildings creates both challenge and opportunity for building professionals as they work to balance value with performance. Wood-frame construction is a cost-effective option for mid-rise structures because it allows high density at relatively low cost, while providing other benefits such as construction speed, structural performance, design versatility, and a sustainable, low-carbon footprint.
Brock Environmental Center
The Brock Environmental Center serves as the hub for the Chesapeake Bay Foundation's (CBF) Hampton Road office and supports their education, outreach, advocacy, and restoration initiatives. In addition to offices for CBF and partner groups, the Center provides meeting rooms and an 80–seat conference room designed to express CBF's mission of collaboration to protect one of the nation's most valuable and threatened natural resources — the Chesapeake Bay.
Advanced Lighting Systems Certificate Series
This series provides a comprehensive overview of advanced lighting systems, for both interior and exterior applications. This series covers lighting sources, technology applications, controls, emerging technologies and future trends.