General Information
Initiative Name: Retrofit Chicago
Primary Contact Name: Katie Rathbone
Title: Communications Coordinator
Organization: Skidmore, Owings & Merrill LLP
Address: 224 S. Michigan Ave., Suite 1000
City: Chicago
State: Illinois
Zip: 60604
Country: United States
Phone: 312-360-4378
Email: katie.rathbone@som.com
Description
Initiative Type: Building Community Activities
Sponsoring / Supporting Organizations:
Skidmore, Owings & Merrill LLP — Architecture / Engineering Firm, Luke Leung, PE, LEED AP, Lucas Tryggestad, AIA, LEED AP, Brandon Stanley, PE, LEED AP BD+C, Arathi Gowda, LEED AP BD+C, Andres M. Montaa, AIA, LEED AP VOA Associates — Architecture Firm, Susan Heinking, AIA, LEED AP O+M, JiHye Park, LEED AP BD+C Goettsch Partners — Architecture Firm Travis Soberg, AIA, LEED AP, Amanda Beelman, LEED AP Hamilton Partners — Property Manager, Rick Staback, Kim Place, RPA, LEED AP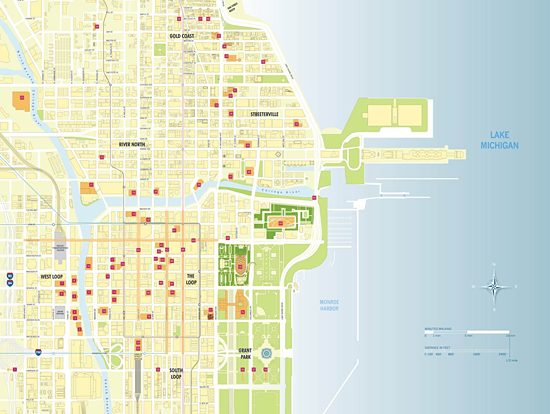 Retrofit Chicago is a three-pronged initiative undertaken by the City of Chicago. Through its objectives, municipal, commercial, and residential entities are working towards reducing overall energy consumption in Chicago by 20% by 2017. Skidmore, Owings & Merrill LLP (SOM) worked with city officials to outline Retrofit Chicago's guiding principles. SOM then partnered with design firms VOA Associates and Goettsch Partners to craft and implement a Retrofit Chicago framework at the 224 S. Michigan Avenue building, home to all three firm offices. SOM's framework for Retrofit Chicago not only impacts the tenants of 224 S. Michigan Ave., but it also sets a precedent for the additional municipal, commercial, and residential building partners participating in the City of Chicago's overall Retrofit Chicago program.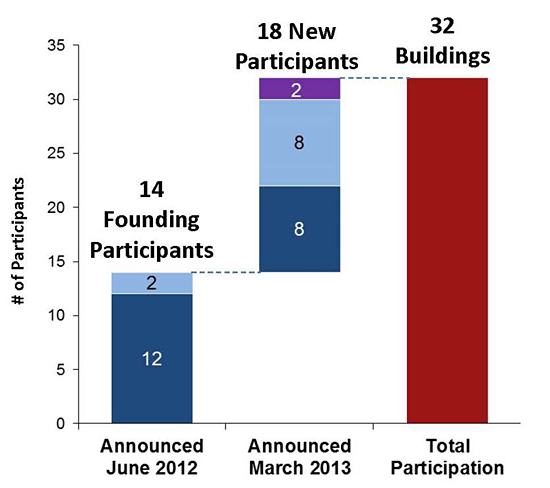 Participating Buildings
SOM joined Retrofit Chicago as a Founding Participant. 224 S. Michigan Avenue, home to the firm's office, is officially classified as a commercial office building and totals 412,404 square-feet.
Total of 28.5 Million SF
20 office buildings
10 hotels
1 residence
1 cultural
Initiative Start Date: Late 2011
Criteria Objectives
Whole Building Design Objectives. The successful resolutions to balancing the eight whole building design objectives highlighting synergies resulting from their interaction.
In late 2011, the City of Chicago approached SOM to help develop and launch the Retrofit Chicago program. The comprehensive plan targets three large categories of building owners and managers-municipal, commercial, and residential-and challenges them to reduce overall energy consumption by 20% by 2017. Working with City officials, SOM set the metrics and targets that define the overall Retrofit Chicago plan, which officially launched in June 2012. SOM then partnered with design firms VOA Associates and Goettsch Partners to craft and implement a Retrofit Chicago framework at the 224 S. Michigan Avenue building, home to all three firm offices.
Adapted to the particularities of 224 S. Michigan Avenue, SOM's Retrofit Chicago framework advances sustainable, cost-effective, and functional objectives by encouraging building occupants to take small, proactive steps that cut energy costs and consumption. Special attention has been paid to everyday energy usage patterns. Installed metering systems track each office's usage habits and Energy Use Intensity (EUI, as measured in kilowatt hours per square-foot); at SOM, retroactive data dating back to 2010 was even incorporated to better pinpoint very specific areas that are prime for improvement. Ground-up programs also work in tandem with metering and data collection, encouraging small, energy saving measures, such as turning off computers and dimming lights, to help tenants curb wasteful consumption. Once per month, metrics and results are reported at building-wide meetings that promote the sharing of ideas and the further spread of the Retrofit Chicago program. To date, SOM has cut its energy consumption by 725kWh per day-a reduction equivalent to 18% of historic energy usage levels. In monetary savings, this equates to $10 per day, $300 per month, and $3,600 per year. Beyond measurable energy and cost reductions, SOM's implementation of Retrofit Chicago has spurred further participation in citywide Retrofit Chicago efforts. In particular, commercial building participation has grown from 14 to 32 partner buildings that total 28.5 million square-feet, and SOM's results have helped the City of Chicago promote the Retrofit Chicago program at large.
Transferability and Marketability. How the initiative can be replicated by or for others, thereby extending the reach of the project.
SOM's Retrofit Chicago framework can easily be replicated by additional program participants. For 224 S. Michigan Avenue, SOM's framework revolves around three key initiatives: data tracking and reporting, easy-to-implement energy savings actions, and building-wide information sharing. SOM initiated the following practices in their own office:
Data Tracking and Reporting:
Developed an action-oriented matrix to track transportation, water, energy, waste, and consumables initiatives
Installed energy metering systems on most mechanical equipment to measure SOM's total EUI in real time
Monitored total energy consumption, targeting computer, printer, and light fixture energy usage
Recorded, organized, and charted energy usage levels to share across both the SOM office and with other 224 S. Michigan Avenue tenants.
Energy Savings Actions:
Encouraged SOM employees to shut down computers and printers when not in use
Recalibrated light fixture dimmers and upgraded T12 fixtures to T8 electronic ballast fixtures to optimize energy savings
Worked with printing partners to cut down on paper and toner consumption and to set all printing peripheries so that they achieve optimal energy savings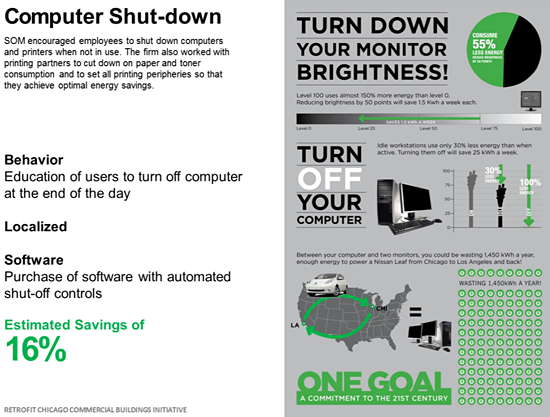 Building-wide Information Sharing:
In conjunction with VOA and Goettsch Partners, SOM met with building tenants and operations on a monthly basis to discuss data findings and energy savings actions. Retrofit Chicago data and cost-effective strategies were shared with potential Retrofit Chicago participants to encourage further building-wide implementation at 224 S. Michigan Avenue. Special workshops were organized for outside contracted IT departments, printing companies, and office operations staff to teach them about 224 S. Michigan Avenue's Retrofit Chicago program and discuss how to maximize energy consumption reductions. The framework works well for commercial buildings, but it is flexible enough to also apply to municipal and residential properties. It can be further adapted to meet the individual needs of Retrofit Chicago participants, making it a good benchmark system for all who want to participate in the program.
Energy and Environment Considerations
SOM's Retrofit Chicago framework holistically tackles energy use reduction, involving 224 S. Michigan Avenue's building management, owners, individual tenants, and outside contractors through its three initiatives. Everybody is encouraged to participate, and efforts can be proactively measured through metering tactics and regular data reporting. By sharing information, successes, and failures across the building, everybody takes an active role in improving energy performance.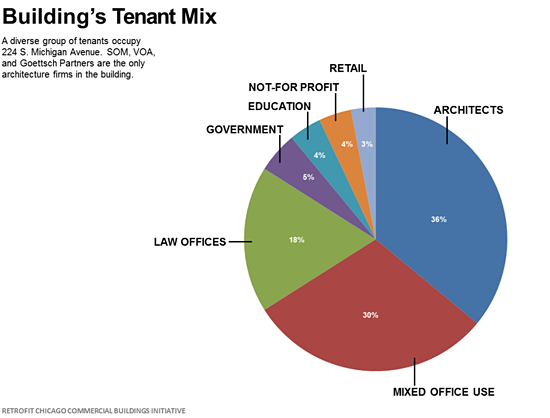 Project Results
Goals that were met/not met and reasons for these outcomes.
The measures taken by 224 S. Michigan Avenue's participating Retrofit Chicago tenants have slashed total energy consumption by 10%, putting the building well ahead of the five-year, 20% energy usage reduction goal. This has been accomplished not only because participants have directly adopted energy reduction behaviors and strategies, but also because they continue to treat energy reduction as an active process. By sharing information, 224 S. Michigan Avenue tenants have come to realize that individual, ongoing actions help move the needle toward further collective energy reductions. However, implementing systemic change has proved challenging.
Not all 224 S. Michigan Avenue tenants have adopted the Retrofit Chicago framework; resources vary company to company, tenants move in and out of the building, and commitments from each tenant's leadership team can be hard to lock down. The 20% energy reduction goal is therefore harder to achieve, but it is by no means unattainable. Through continuous information sharing, tenant education, and energy savings actions, SOM hopes to encourage all 224 S. Michigan Avenue tenants to participate in Retrofit Chicago and feels confident that the building will be able to meet—and potentially exceed—the City of Chicago's five-year, 20% energy reduction target.
Synergies that resulted from the design objectives addressed in the initiative.
Building-wide monthly meetings have become one of the most effective tools for reducing overall energy consumption at 224 S. Michigan Avenue. Before participating in Retrofit Chicago, each tenant set their own energy savings initiatives. Even Hamilton Partners, the building's management company, pursued LEED certifications outside of a holistic, energy savings plan.
Today, however, tenants exchange their knowledge once per month. This collective design strategy implementation method has allowed tenants to learn from each other's sustainable, cost-effective, and functional objectives, and it has enabled them to enact measures that build on the collective knowledge of the group. Outside of SOM's Retrofit Chicago plan, these meetings have also helped 224 S. Michigan Avenue attain Gold certification under the LEED Existing Buildings rating system.
How these results were determined and measured.
Determining 224 S. Michigan Avenue's energy consumption levels requires uniformly monitoring, collecting, and reporting individual tenant energy usage data and patterns. In the initial stages of Retrofit Chicago, SOM developed a Strategies Matrix that outlines the individual parameters that, when analyzed as a whole, project a complex picture of the building's energy usage. Each participating Retrofit Chicago tenant now uses this matrix to track their own energy usage data.
To chart progress, both monthly energy bills and total building energy meters are logged into a spreadsheet. At SOM, monthly data dating back to January 2010 helps benchmark data findings; a baseline comparison for the building has been established using data recorded individually by SOM, VOA, and Goettsch Partners over 2011. Usage is tracked by total consumption per organization, and is further broken down to usage per population and usage per area, to attempt to normalize data among the different participating tenants. Results are then tracked and graphed to both numerically and visually determine total energy savings over time. Additionally, some participants utilize sub-metering to further analyze usage and determine easy targets for further energy savings. Data is collected and shared among tenants, helping provide concrete insight that guides the progress that can still be made to reduce 224 S. Michigan Avenue's overall energy consumption.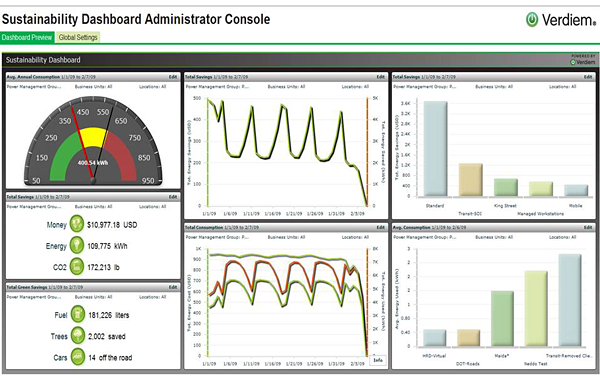 Benefits to the target audience.
To design firms like SOM, VOA, and Goettsch Partners, the overall benefits that will come from reducing Chicago's energy consumption by 20% over a five-year timeframe have always outweighed each individual participant's capital costs. But by sharing long-term data, compiling cross-comparative analyses, promoting information sharing, and encouraging small, everyday energy savings measures, SOM has proved to 224 S. Michigan Avenue's tenants that low-cost or no-cost strategies drastically reduce energy consumption levels. This has helped belay beliefs that energy reduction can only be achieved by taking costly, intensive measures. It has also helped motivate tenants with established energy savings initiatives to re-evaluate their efforts, pushing them to find additional reductions. On a larger scale, SOM's Retrofit Chicago framework serves as a model that is flexible enough for citywide implementation. Chicago's goal is to invest in its existing architecture and to be as sustainable as possible. The idea is that growth should intelligently be built upon, not aggressively further built out. SOM's Retrofit Chicago framework fulfills these objectives, and it helps move the city one step closer toward its ambitious, 20% total energy savings goals.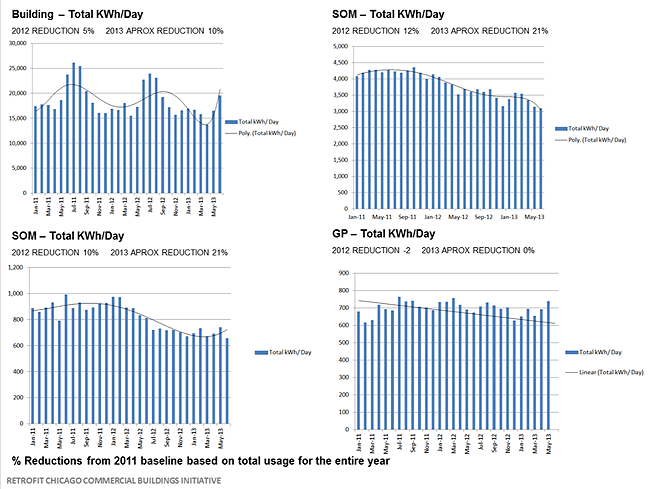 References
Awards
National Institute of Building Sciences, Sustainable Buildings Industry Council (SBIC) Beyond Green™ High-Performance Buildings Award, 2013
Publications