Building Commissioning
Last updated: 06-11-2012
Within This Page
Introduction
Building Commissioning is a rapidly growing A-E-C Project Management practice that is being embraced by public and private organizations because of its benefits in improved project delivery results.
This section of WBDG organizes commissioning information, guidance, and resources under three broad principles, including Determine Project Performance Requirements, Plan the Commissioning Process, and Document Compliance and Acceptance. It is important to note that all three principles are applied over the life-span of a capital design and construction project, and that it takes a multi-disciplined effort involving owners, design professionals, construction managers, and commissioning providers to achieve optimal results from the commissioning process.
It is important to start the commissioning process early and to bring the commissioning agent (CxA) on board during or before schematic design. This early involvement is critical for the timely and useful development of the Owner's Project Requirements (OPR), the subsequent design team Basis of Design (BOD) and the beginning of the Operations & Maintenance (O&M) Systems Manual. If these tasks are left until later in the process and "reverse engineered" to match the design, their usefulness as catalysts for dialog and quality tracking tools is lost.
Appointing the CxA immediately after the architects and engineers allows the CxA to become familiar with existing programming documents and proceed immediately to the OPR workshop and the development of the MEP and other criterion that match the project needs. When the Systems Manual is started at this early stage, the inclusion of O&M requirements is ensured. The inclusion of O&M in the early stage project programming is the key to the long- term persistence of the energy efficiency and equipment longevity strategies built into the design.
This section provides an overview of commissioning drivers, benefits, goals, and principles and general commissioning guides, standards, and resources.
Definition
ASHRAE Guideline 0, The Commissioning Process, defines commissioning as "a quality-oriented process for achieving, verifying, and documenting that the performance of facilities, systems, and assemblies meets defined objectives and criteria". Commissioning is an all-inclusive process for all the planning, delivery, verification, and managing risks to critical functions performed in, or by, facilities. Commissioning ensures building quality using peer review and in-field or on-site verification. Commissioning also accomplishes higher energy efficiency, environmental health, and occupant safety and improves indoor air quality by making sure the building components are working correctly and that the plans are implemented with the greatest efficiency. Commissioning is a quality assurance-based process that delivers preventive and predictive maintenance plans, tailored operating manuals and training procedures for all users to follow. Essentially, the commissioning process formalizes review and integration of all project expectations during planning, design, construction, and occupancy phases by inspection and functional performance testing, and oversight of operator training and record documentation.
Commissioning Definitions (PDF 26 KB)
Benefits
Commissioning assists in the delivery of a project that provides a safe and healthful facility; optimizes energy use; reduces operating costs; ensures adequate O&M staff orientation and training; and improves installed building systems documentation.
Commissioning benefits owners' through improved energy efficiency, improved workplace performance due to higher quality environments, reduced risk from threats, and prevention of business losses. Organizations that have researched commissioning claim that owners can achieve savings in operations of $4 over the first five years of occupancy as a direct result of every $1 invested in commissioning—an excellent return on investment. Meanwhile, the cost of not commissioning is equal to the costs of correcting deficiencies plus the costs of inefficient operations. For mission-critical facilities, the cost of not commissioning can be measured by the cost of downtime and lack of appropriate facility use.
Drivers
Governmental projects commonly employ commissioning because mission critical facilities support essential public infrastructures. Corporations use commissioning on projects to ensure peak performance to positively impact bottom lines and business continuity. Manufacturers use commissioning because of the high levels of environmental controls needed in their processes and to ensure occupational safety in hazardous settings. While projects with special performance needs require commissioning, all projects need some level of commissioning to perform at their best.
In addition to the performance needs of mission-critical facilities, another factor driving demand for commissioning is the desire to obtain certification through the U.S. Green Building Council (USGBC) Leadership in Energy and Environmental Design (LEED) program and the Green Building Initiative's Green Globes program. These rating systems have been developed to improve energy efficiency and environmental performance in buildings—and commissioning is a prerequisite for LEED certification and a requirement in Green Globes. A building certified to these rating systems might include highly efficient power and lighting systems, photovoltaic and active/passive solar technologies. From an owner's perspective, investment in such sophisticated building technologies must be accompanied by rigorous construction quality assurance and performance verification measurement, which are best provided by the commissioning process. Commissioning beyond the basic prerequisite requirement can earn an additional LEED point. Note that the LEED program is transitioning from the 2009 to 2012 versions as this Design Guide is being updated. The Cx requirements in the 2012 version appear to be substantially increased from those in the 2009 version.
Green design helps reduce building costs while providing for a more comfortable indoor environment, research indicates. Investing in green construction pays for itself 10 times over, according to an October 2003 study prepared for a group of more than 40 California government agencies. The study, conducted by the Capital E Group at Lawrence Berkeley National Laboratory with input from a number of state agencies, reflects the most definitive cost-benefit analysis of green building to date.
Commissioning Goals
Commissioning is often misinterpreted to focus solely on testing during the end of the construction phase. However, commissioning is actually a collaborative process for planning, delivering, and operating buildings that work as intended. ASHRAE (The American Society of Heating, Refrigeration and Air-Conditioning Engineers) defines commissioning as "…the process of ensuring that systems are designed, installed, functionally tested, and capable of being operated and maintained to perform in conformity with the design intent… Commissioning begins with planning and includes design, construction, start-up, acceptance and training, and can be applied throughout the life of the building." This definition accurately depicts commissioning as a holistic process that spans from pre-design planning to post-construction operation and can be thought of as a checks-and-balances system. Accordingly, the goals of commissioning are to:
Define and document requirements clearly at the outset of each phase and update through the process
Verify and document compliance at each completion level
Establish and document commissioning process tasks for subsequent phase delivery team members
Deliver buildings and construction projects that meet the owner's needs, at the time of completion
Verify that operation and maintenance personnel and occupants are properly trained
Maintain facility performance across its life cycle
Commissioning Principles
Regardless of the extent of commissioning that is determined as appropriate for a project (Number or complexity of systems commissioned) and the approach utilized (Independent Commissioning Authority (CA), A-E/CA, CM/CA or Owner/CA), there are three overarching principles in the Commissioning Process that begin at project inception and continue through Occupancy and Operations.
Every project goes through Pre-Design and Design Stages that establish an owner's needs, goals, scope, and design solutions for a proposed project. Proposed designs and constructed work can only be evaluated against objective criteria and measures that are embodied in well-documented project requirements. Project development is a learning process where building performance decisions are refined to successive levels of detail over the course a of project's life cycle. Key commissioning activities supporting this principle include:
Understand Needs of Special Building Types
Define Threats, Risks, and Consequences
Determine Key Program Goals and Objectives
Recognize Systems Criticality to Achieving Goals
Conduct Key Commissioning Programming Activities
Commissioning involves the systematic process of planning delivery team member roles and responsibilities and tasks for all project phases and activities, including review and acceptance procedures, documentation requirements, development and approval of Commissioning Plans, Commissioning Schedules, and Testing and Inspection plans. Planning the Commissioning Process includes identification of special testing needs for unique or innovative assemblies and measures that will assure adequate O&M Training. Key commissioning activities supporting this principle include:
Establish Goals for Quality, Efficiency, and Functionality
Establish a Commissioning Approach and Scope
Establish Commissioning Budgets
Establish Commissioning Plans
Establish Commissioning Schedules
Establish Testing and Inspection Plans
Develop Commissioning Specifications
Determine Special Testing Needs
Establish Re-Commissioning Plans
Commissioning serves as the historical record of an owner's expectations for project performance throughout the project delivery process. The purpose of commissioning documenting is to record the "Why, How, and What" of key delivery team decisions throughout the planning and delivery process. Commissioning documents the establishment of standards of performance for building systems, and verifies that designed and constructed work meets those standards. Key commissioning activities supporting Document Compliance and Acceptance include:
Document all Levels of Project Development and Acceptance
Emphasize Inspection, Testing, and Training on Commissioned Systems
Compile Key Commissioning Documentation
Application
Currently, no building code requirements exist at a national level for Building Commissioning. However, all new or renovation building programs can benefit from some level of commissioning. Recent case studies conducted in private sector facilities have shown that the Building Commissioning Process can improve new building energy performance by 8% to 30%. Similar results can be expected in other facilities. For complex building types with highly integrated building systems, formal Building Commissioning Processes will provide compounding benefits. Mission Critical Facilities have special needs for protecting their mission continuity and their occupants or building users.
Some governmental agencies, including GSA, NAVFAC, and USACE have adopted formal requirements, standards or criteria for commissioning of their capital construction projects. However, the extent of commissioning utilized will depend on project funds available.
Industry Guidelines
This section of the Whole Building Design Guide is based primarily on the Commissioning Process recommended in ASHRAE Guideline 0 - 2005. It is highly recommended that project teams who employ the Building Commissioning Process should follow the process outlined in ASHRAE Guideline 0. Guideline 0 has been adopted by both ASHRAE and NIBS and does not focus upon specific systems or assemblies, but presents a standard process that can be followed to commission any building system that may be critical to the function of a project. The NIBS Total Building Commissioning Program is currently working with industry organizations to develop commissioning guidelines for various systems and assemblies.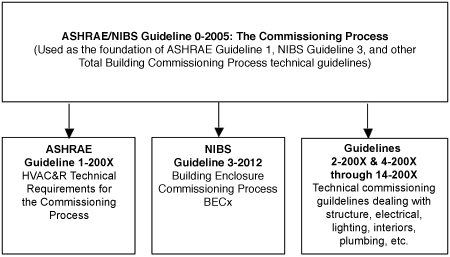 NIBS Guideline 3 —Total Building Commissioning (TBC) Process
Conclusion
The commissioning process can be applied in a variety of approaches focusing on building systems/assemblies and can be customized to suit project needs. However, regardless of commissioning approach and system focus, it always requires clear definition of performance expectations, rigor in planning and execution, and thorough project testing, operational training, and documentation.
Relevant Codes and Standards
Additional Resources
Agencies
Federal Agency
Organizations
Publications
The Building Commissioning Handbook 2nd Edition, by John A. Heinz, PE and Richard B. Casault, PE.
"Building Commissioning: A Golden Opportunity for Reducing Energy Costs and Greenhouse-gas Emissions" by Evan Mills, Lawrence Berkeley National Laboratory, 2009.
California Commissioning Guide for Existing Buildings (PDF) by the California Commissioning Collaborative, 2006.
California Commissioning Guide for New Buildings (PDF) by the California Commissioning Collaborative, 2006.
"The HVAC Commissioning Process", ASHRAE Guideline 0-2005: The Commissioning Process (supersedes Guideline 1-1996) and/or 1.1-2007 and 1.3-2011.
National Clearinghouse for Educational Facilities (NCEF)—publications on commissioning
Planning and Design Services: Commissioning Goals by Washington State Department of Enterprise Services, February 27, 2012.
A Practical Guide for Commissioning Existing Buildings by Tudi Haasl of Portland Energy Conservation Inc. and Terry Sharp of Oak Ridge National Laboratory. April 1999.
PWGSC Commissioning Manual (CP.1) by Public Works Canada. Phone: 819-956-3972.
Training and Other Resources