Updated: 06-27-2018
INTRODUCTION
Within This Page
Cathodic Protection (CP) is a technique used for prevention of corrosion by making a metal, which would ordinarily behave like an anode and corrode, instead behave like a cathode and reduce or eliminate corrosion attack. It is the application of the electro-chemical corrosion cell with beneficial results. CP is generally accomplished using two methods: sacrificial anodes (galvanic) and Impressed Current CP (ICCP). Sacrificial anodes transfer the location of the corrosion attack from the structure being protected to the sacrificial anode itself (another material specifically selected to make the CP circuit function). In ICCP, a direct current from a power source through ICCP anodes is applied to the structure being protected to prevent the electrochemical mechanism of corrosion prior to its attack.
DESCRIPTION
CP systems must be carefully designed, correctly installed, inspected for proper function, certified to gain the desired benefits and maintained. Cathodic Protection is utilized to protect critical infrastructure, much of which would have calamitous results due to failure: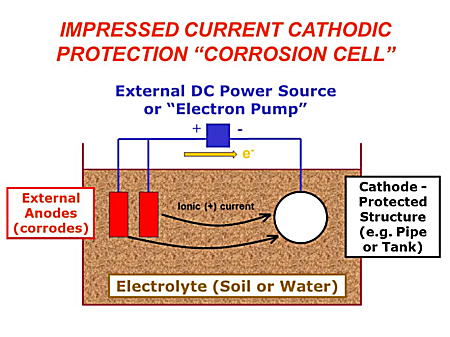 Natural gas piping and distribution systems
Liquid fuel piping
Oxygen piping
Fire mains and underground fire protection piping
Ductile iron pressurized piping under floor slab (slab on grade)
Underground heat distribution and chill water piping in metallic conduit
Steel sheet pile seawalls, pier support, fender piles, and other submerged steel structures
Underground, ground level and elevated storage tank systems
Other systems that may employ CP:

Systems with hazardous products
Potable water distribution systems
Compressed air distribution systems
Sewage lift stations
Concrete reinforcing steel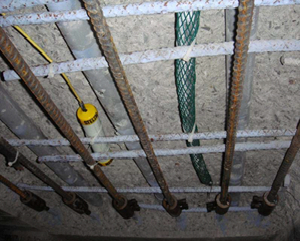 A properly designed, operated, and maintained CP system can extend the life of a structure indefinitely with the replacement of CP components. The annual maintenance and periodic repair costs are far less than major repairs to or replacement of the structures themselves. The reduction of potential liability from premature failure of utilities such as gas line explosions and jet fuel leaks is enormous. Cost avoidance caused by the leakage that results in fines, environmental cleanup, remediation and disposal of contaminated soil along with the associated negative public image is an overarching consideration and selecting and sustaining a functioning and effective CP solution. For more information review the Cathodic Protection Basics training module.
Consulting a Cathodic Protection Subject Matter Expert (SME)
The CP SME provides invaluable consultation skills developed from years of experience assessing corrosion prevention requirements and many environments. The SME can translate local conditions into CP solutions that provide immediate and long-term benefits to the installation and its SRM bottom line costs. Typical consulting services provided by the CP SME include:
Problem assessment
Failure analysis
Environmental Severity impacts
System and material selection
Review and assessment of contractor deliverables
Quality assurance
System design
SRM analysis and recommendations (system inspection and testing assistance)
Hazards analysis
Assessment of new technologies
Process analysis
Relevant Codes and Standards
Department of Defense
Unified Facilities Criteria (UFC)
Unified Facilities Guide Specifications (UFGS)
U.S. Army Corps of Engineers - Public Works Technical Bulletin (PWTB)
National Association of Corrosion Engineers (NACE) and Society for Protective Coatings (SSPC)
ADDITIONAL RESOURCES
Organizations
Assistance
Obtaining SME Assistance for DoD Installations
Content Source: Cathodic Protection Basics training module (Steve Geusic, P.E.)
Federal Facility Criteria: